Seesmic Shows Off Twitter Client For Windows Phone 7 Series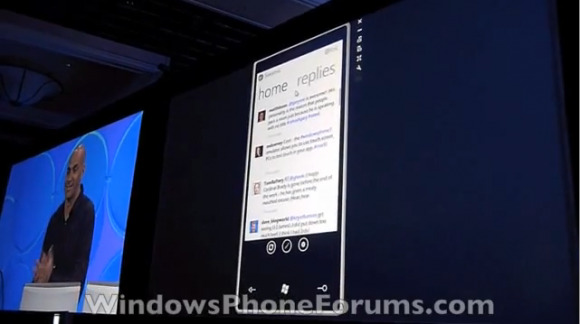 Twitter is one of those things that seems to be in the natural order of selection nowadays, and that's why we're not shocked at all that Seesmic managed to find their way onto the stage today at MIX10, and showcase their build of a Twitter client. Of course, this is the first "real" Twitter client showcased on a Windows Phone 7 Series device, but even with that heavy burden on its shoulders, Seesmic stepped up to the plate.
Silverlight is going to be a huge part of the platform. That goes without saying. But, even as we see in the video, Seesmic is using the technology to capitalize on the transitions, backgrounds, and other elements of the software. In this case, you can see that as the image of a Twitter user comes up on the screen of your phone, their Twitter background is also shown on your phone. This makes for a far more robust user experience. You are also able to showcase Tweets near you, with a map, as well as their tweets listed below the map of your location. This uses a Bing Maps plug-in, making the services used fast and accessible.
The integration between applications, the software, as well as seemingly everything else that goes into the phones makes it look like Windows Phone 7 Series is going to be a seamless experience. The use of plug-ins, especially the ones such as Bing Maps within Seesmic, means that you can move form one service to another, like geotagging your tweets or seeing where your friends are tweeting from around you, is one of those features that gives a lot back to the user, and just goes to show why you'd want to use the service at all.
Feel like you need to add your piece about Windows Phone 7 Series? Sign up at Windows Phone Forums and join the discussion!