Seagate 60TB SAS SSD Packs Lots Of Fast Storage In A 3.5-Inch Form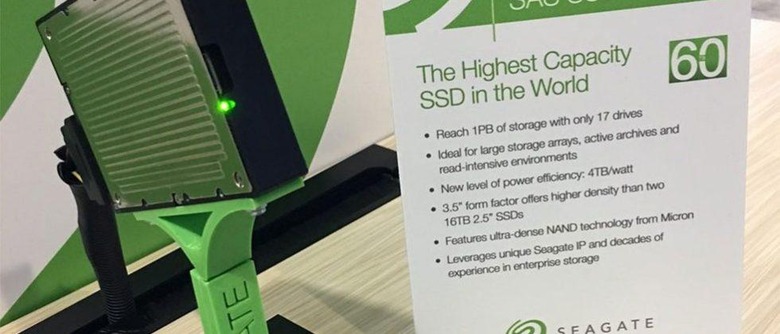 Seagate has announced a new massive capacity SSD that is aimed at the enterprise environment. The drive is a 60TB SAS SSD and Seagate says that the new storage device has twice the density and four times the capacity of the next highest capacity offering available today. The 60TB storage drive has enough space for 12,000 DVD movies or 400 million photos.
The new SSD is designed to accommodate "hot" and "cold" data and since the storage is a traditional 3.5-inch form factor, it will work in the same enclosures already in use inside many data centers. Seagate doesn't plan to stop at the 60TB capacity; it is already planning to expand the capacity to 100TB in the future within the same form factor.
Seagate also has the 8TB Nytro XP7200 NVMe SSD that is designed or hyperscale needs. This SSD uses a single PCIe interface for high-speed data transfers and has four separate controllers. "AccelStor's core focus is on providing all-flash arrays that offer tremendous performance and reliability to meet the demands of the fast-growing cloud and enterprise markets. Critical to achieving this, though, is having the right building blocks — including exacting solid-state engineering and software innovation," said Dr. Charles Tsai, president of AccelStor, Inc. "AccelStor works with Seagate Technology to seamlessly integrate our state-of-the-art FlexiRemap software technology with Seagate Nytro NVMe SSDs. The result: we're able to translate SSD performance into complete all-flash arrays that help data centers extract the most value from their data."
Seagate will begin shipping the 8TB Nytro XP7200 NVMs SSD to partners in Q4 2016 at an undisclosed price. The larger capacity 60TB SAS SSD is a demonstration technology right now and is expected to launch in 2017.
SOURCE: Business Wire