Sea of Thieves offline this weekend: What you should know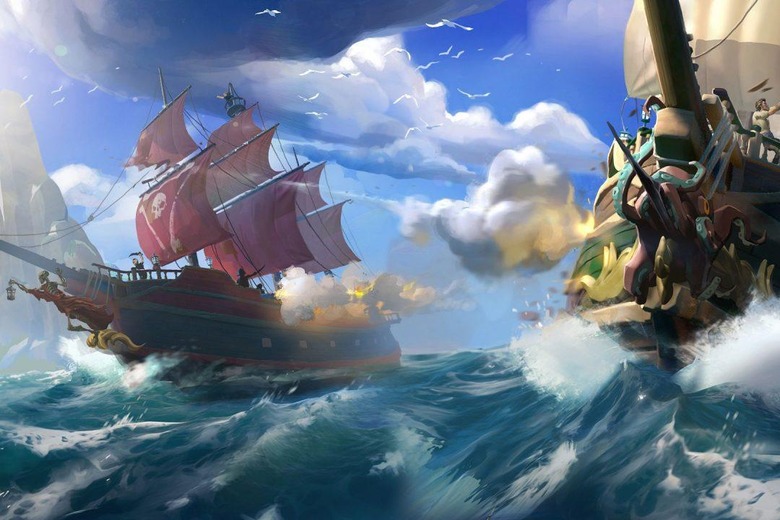 After years of waiting and anticipation, Sea of Thieves finally launched earlier this week. Reactions to the game seem to be mixed, but that isn't stopping players from setting sail – in fact, Rare has revealed that more than one million unique players have logged into the game since it released. Unfortunately, those of you hoping to start the weekend by pulling an all-nighter in Sea of Thieves are about to be disappointed.
Rare has a rather long period of server downtime scheduled for tomorrow. This downtime will allow Rare to perform server maintenance on Sea of Thieves, and it's going to last for a not-insignificant 5 hours. Rare has scheduled this maintenance period to last from 9 AM to 2 PM GMT on March 24, so over in the UK, many of you won't be able to access the game until late afternoon tomorrow.
Here in the US, that downtime will probably be a lot more bearable for most players. On the east coast, servers will be down from 5 AM until 10 AM, which isn't too bad as it means you'll still be able to play well into the early morning hours tomorrow. Those on the west coast are looking at downtime that stretches from 2 AM Pacific to 7 AM.
There's a running list of problems that Rare is looking to fix, as detailed over on the Sea of Thieves website. One of the biggest problems right now is server stability during peak times, which is something that doesn't have an immediate solution. The good news is that many of the problems Rare lists have fixes coming up in the next patch, which should be here sometime early next week.
Rare doesn't detail what it will be doing during this server downtime tomorrow, but this isn't the only maintenance period it has scheduled. We'll also see a similarly long period of downtime on Tuesday, March 27, which is slated for the same times you see listed above. Have you been enjoying Sea of Thieves thus far? Head down to the comments section and let us know!