Scosche Unveils New myTREK Pulse Monitor For iPhone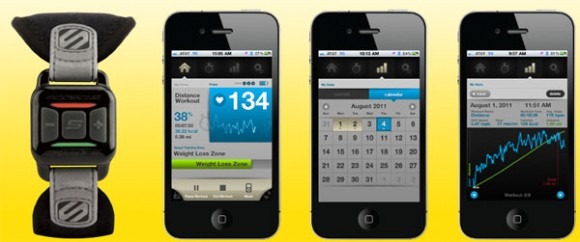 Scosche has unveiled a new accessory for the active user that has an iPhone they carry with them when running or working out. The device is called the myTREK pulse monitor. The device has a hardware band that the person wears and interfaces with a free app on the smartphone. The app will track all sorts of parameters for your workout.
The app will keep track of pulse, calories burned, distance, speed, pace, and it stores past workouts for comparison. The armband replaces the bulky and uncomfortable chest strap that many pulse monitors use. It has a pair of LEDs and a photo sensor to detect changes in blood pressure allowing it to monitor the pulse accurately. It also has an integrated accelerometer to adjust for movement for accurate readings and to measure the calories burned.
A rechargeable battery that is good for five hours of continuous use powers the strap. The battery charges via a USB cable and the strap comes in small, medium, and large sizes. The myTREK is available right now and sells for $129.99. The app is on the App Store at no charge.