Scosche unveils foundIT location device for under $50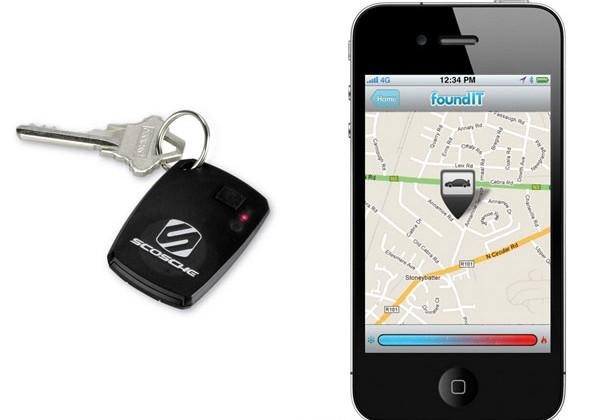 If you're constantly losing things such as your keys, purse, wallet, or any other item, Scosche has a new wireless location device you might find interesting. The device is called the foundIT and the location device is designed with the keyring attachment allowing it to be attached to just about anything. The locator hardware is likely too bulky for attaching to your typical smartphone or tablet.
The small location sensors have a range of 100 feet. That means if you misplace your keys within your house, car, or office you be able to locate the missing items using a map and a little radar display inside the app. The sensor gets power from a small coin cell battery promising almost a year of use per battery.
The sensors are designed to pair with the iPhone 5, iPhone 4 S, iPad, or iPad mini using an application available as a free download on the App Store. The app does require devices to be running iOS 5.1 or higher. The foundIT package includes two of the sensors for $49.95.
Once the sensor is paired with the application running on your Apple gadget, you can receive audible and vibration alerts if your items are out of range. That means if you're at the airport and you set your bag down and walk away, if the bag has a sensor attached your smartphone will vibrate and remind you to go back and pick up your bag. It appears that the hardware is approximately the size of a remote control for a keyless entry system of a car.
[via Scosche]