Scosche shows off whole new line up of iPod accessories for CES 2009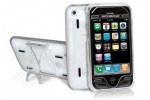 Scosche is gearing up to show off a bunch of new products at CES 2009 and they've giving us a sneak peek at what you can expect at the tech show. The new products cover the gamut of iPod and iPhone accessories.
First up, are three new sets of stereo headphones including the IDR400M, which has noise canceling, 10mm drivers, and silicone inserts; the IDR600, which features 11mm drivers, a 24K gold-plated 3.5mm audio jack and a magnetic cable management system; and the HZ5 tuneSTREAM Bluetooth Headphones, which sport a 30ft wireless range, hands-free capability, and 8 hours of battery life.
Also to be displayed are several new cases for the iPod and iPhone, including the Protect and kickBACK lines. They're made from polycarbonate. The reCOIL retractable car charger is also set to make its debut and make dealing with messy cables in the car a thing of the past. You can also expect to see the passPORT Home Dock at CES, which is configured to charge up all the latest Apple gizmos including the 4G iPod nano, the iPhone 3G and the 2G iPod touch. We don't know release dates yet, but we're sure to know more once these Scosche products are put on display at CES 2009.