Scooterputer Features a Thermaltake Element V Case on a Scooter [Video]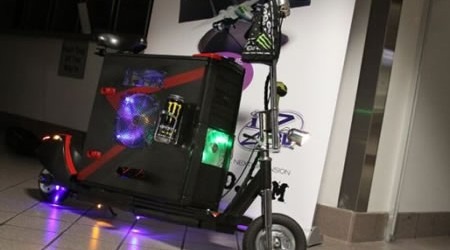 Having a customized PC case, whether for just showing off to people or for your favorite gaming rig, usually means that it's stuck in the room you put it in, without much of an option to actually carry it places. But, thanks to a scooterputer, that's not really an issue, considering the PC is actually part of the scooter. That gives you the ability to tuck away plenty of power for your gaming needs, but also have that portability you might have desired so much.
This particular set-up consists of a Thermaltake Element V case, surrounding plenty of options. The scooter is a 24v rechargeable electric one, which has been extended by 11-inches to make more room for the PC that's sitting on it. As for the features of the PC itself, the owner set it up to feature an Intel Core i7 processor, GTS 250 graphics, 4GB of RAM, a USB 3.0 port, three RAIDed hard drives, and a dual-layer DVD burner. The power supply is a Thermaltake TR2 1200 Watt version. The rig is even water-cooled, with Thermaltake's Big Water 850I kit.
The scooter's handlebars, seat, and fender were all brought together from different scooters. The scooterputer also features a working brake light, a front light that's halogen, and a horn. If that's not enough, there are even working LED ground effects, and functioning parking lights. Check it out on video below.
[via NewLaunches]