Sceptre unveils new TVs with integrated MHL technology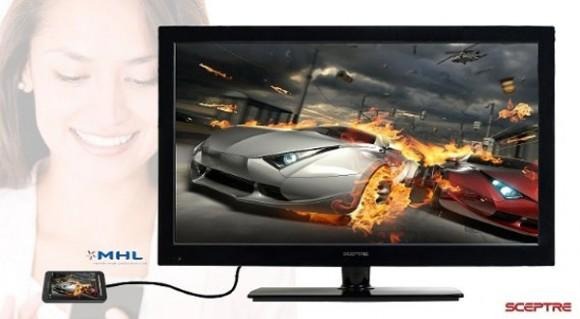 There are a lot of TVs from major television manufacturers that feature MHL technology allowing users to directly connect their mobile device to watch content on the big screen. The problem for a lot of people is that many these TVs are rather expensive putting them out reach a budget shoppers. TV maker Sceptre has announced that it has a some new LED and LCD TVs that feature integrated MHL technology coming soon.
The company is set to begin integrating MHL tech into its line of LED backlit HDTVs starting with 32-inch units up to its 58-inch units. Currently the company is offering both a 32-inch and a 47-inch LED backlit TVs that come equipped with MHL tech. The inclusion of that technology means that the TVs support 1080p high-definition video and surround sound from the mobile device while simultaneously charging the device.
The display mirrors the mobile device screen allowing users to utilize the same menu to play movies, listen to music, and stream video. The MHL tech in the Sceptre TVs also allows you to control the connected device using the TVs remote control.
Sceptre did not offer any details of what specific models of TVs it produces support MHL at this time. It's typical range of 32-inch TVs cost somewhere around $600. It's nice to see some cheaper television offerings featuring MHL technology to help you get your streaming content from your smartphone or other device onto your big-screen TV.