Saturn V rocket to be projected on Washington Monument next week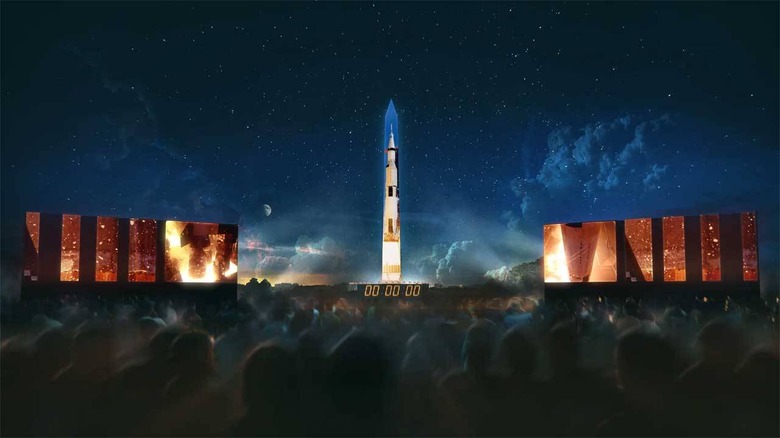 One of the coolest things to happen in Washington in a while will happen next week. To celebrate the 50th anniversary of the Moon landing on July 20 events are being held around Washington D.C. One of the most interesting of these events will take place at the Washington Monument.
Giant screens have been set up to each side of the Washington Monument, and on those screens, a movie about the Apollo 11 missions will play that lasts 17-minutes. As the movie plays, a full scale 363-foot tall Saturn V rocket will be digitally projected onto the Washington Monument.
The event has been commissioned by the Smithsonian National Air and Space Museum and is being produced by Fifty-Nine Productions in partnership with the U.S. Department of the Interior. Funds were contributed to the event from both Boeing and Raytheon. The full-scale rocket will be projected on the east face of the Washington Monument and will be visible on July 16, 17, and 18 from 9:30 pm to 11:30 pm as a preview before the full show in the following days.
The attraction is called "Apollo 50: Go for the Moon" and will be held on July 19 and 20 with shows running at 9:30 pm, 10:30 pm, and 11:30 pm. The show is free to the public, but parking costs $15, and all are invited to participate. Since the event is taking place at a national monument, it needed Congressional approval and passed unanimously in both the House and Senate. President Trump signed the resolution on July 5.
Those wanting more information about the show can text Apollo50GO to 888777 for live updates. This text service was set up by the Air and Space Museum.