Satechi Unveils New USB 3.0 Aluminum External Hard Drive Enclosure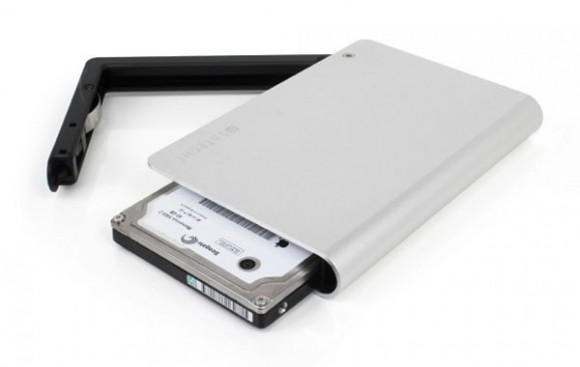 If you're a computer user that builds your own machines somewhere around your house, you have old hard drives that you didn't want to throw away, but you don't use. I think I have four or five around my house sitting there collecting dust. They are still full of data and on occasion, I get curious about what's on the drive and go through the hassle of plugging them into my computer to see.
If you have any 2.5-inch SATA hard drives or SSDs laying around your home that you would like to get some use out of, Satechi has a new aluminum external hard drive enclosure that works with both USB 3.0 and eSATA ports. The enclosure will allow you to turn those forlorn hard drives that have been relegated to a desk drawer into external storage.
If you have a small SSD lying around, the combination of a speedy SSD and fast USB 3.0 connectivity could make for a very fast portable external hard drive. The enclosure works for 2.5-inch SSDs or hard drives of 9.5 mm or 12.5 mm thickness. The enclosure gets power to operate through a USB cable and needs no external power adapter.
The aluminum enclosure measures 5.3 x 0.6 x 3.5-inches and weighs 6.8 ounces. If this sounds like something you need, you can order the enclosure right now for $39.99. The company also has a matching memory card reader available for $29.99. Both of these products will look perfect beside your iMac or MacBook.
[via Satechi]