Sanyo PLC-HF1500L large venue projector has 15K lumens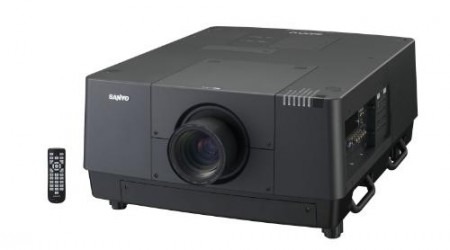 When it comes to projectors, different models are good for different things. If you have small room and want a big picture, you need a short throw projector. If you have a large room, you need a bright projector and there are all sorts of other offerings to meet needs of any user on the market today.Sanyo has unveiled a new projector that is aimed at use in large venues the projector is called the PLC-HF15000L. The projector has 15,000 ANSI lumens and supports really high resolutions as well with more than full HD and an inorganic 2K LCD panel. The projector has four 380W lamps inside with unique cooling technology.
The inputs on the projector include HDMI 1.3; DVI-D; D-sub 15 pin RGB; BNC for RGBHV and CV/Y-Pb/Cb-Pr/Cr; and S-Video, with optional boards available for HD/SD-SDI and Dual Link SDI. Other features include power zoom and motorized lens shift. The only thing that is bad about this projector is the price. The projector will ship this month for $44,995.