Sanyo Offers Up a Compact HD Cam With 720p
Monday's here and we've got another week ahead of us. And today's already been pretty busy, considering
Apple's gone and outed the official release date of their upcoming OS
, and even
unveiled. And while I'm sure someone at Sanyo cares about all of that, we're sure they're thinking you should be more excited about a small camcorder that's capable of recording at 720p. And, if that's not all, there's something else that might entice you to grab this little camera.
First though, we should mention that while Sanyo has brought its previous Xacti camcorders here to the States, this model, the Xacti CG11, will release first in Japan, but there isn't any reason to think it won't come here soon. Stats wise, the CG11 is promoting that 720p record rate, but obviously that's not revolutionary or anything. What makes the CG11 stand out though, is its on board built-in recognition of Eye-Fi cards. This gives users the ability to transfer the recorded videos has taken, and share them with YouTube and other online video sites without having to plug anything in. And compared to the previous CG10 model, the CG11 also acquires a mini-HDMI port to preview your stuff on a bigger screen, at full resolution.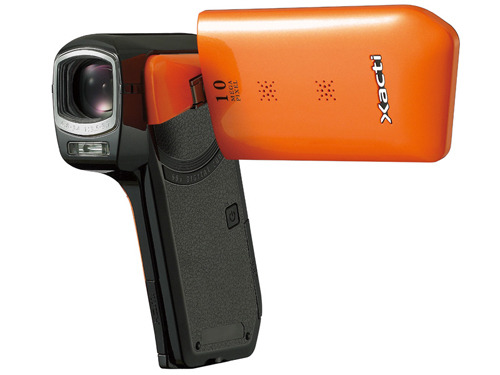 The CG11 takes JPEG images at 10-megapixels, and offers a 5X optical zoom. It has video capture at H.264. And memory is the pretty standard SDHC cards. For those lucky enough to be in Japan to get their paws on this thing, it starts shipping September 11th, and will cost about $317 locally. You probably won't have to wait very long to get your hands on this here in the States though, so be a little patient if you want some 720p, Eye-Fi sharing goodness.
[
Impress]