SanDisk ships new Ultra SSD for notebooks and desktops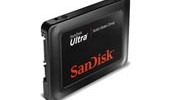 SanDisk has announced that it has started shipping a new SSD to retailers that is aimed at the consumer notebook and desktop market. The SSD will be a nice version for those that need more performance from their machines and are looking to make an upgrade. The SSD is called the Ultra, comes in several capacities, and offers nice performance as well.
The SSD is a drop-in solution that will slip right inside your existing machine for an upgrade in performance and possibly battery life on a notebook without having to replace the entire machine. The Ultra SSD has fast 280MB/s sequential read speed and 270MB/s sequential write speed. The random speeds hit up to 3Gb/s.
The Ultra SSD uses the SATAII interface and will allow for faster booting and application launching as well. SanDisk claims the MTBF for the SSD is up to 1 million hours. The SSD will be offered in 60GB, 120GB, and 240GB capacities. The MSRP for the SSDs is $129.99, $219.99, and $449.99 respectively. All capacities are available right now at Newegg and other retailers.
[via SanDisk]