SanDisk Photo Album helps you get your photos on the big screen with ease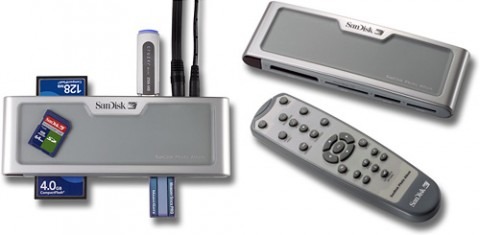 Essentially what this is, is a really nice card reader that also plugs into your TV an makes it really easy to throw your pictures up on the ole TV. There are card slots for the following card types: CF, MS, MS PRO, SmartMedia, xD, SD, and MMC.
On top of that there is a USB port, you can use it to either connect it to your PC or to connect a flash drive. There is also an apparent power cord and then the outputs for connecting to your TV.
You can view images as big as a 16MP JPEG, play MP3s, or view videos saved in 8fps MPEG-1 format. Using the remote you navigate the menus, and on such files as the 16MP JPEG, you can zoom in on the image since this device automatically shrinks everything to fit on your TV screen. You can get it now for $50 from SanDisk, or $40 from Amazon.
SanDisk Photo Album Makes Sharing Easier
[via ohgizmo]