SanDisk offers new flash memory cards for gamers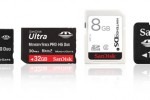 SanDisk makes a huge array of storage products for all sorts of devices from cameras and game consoles to computers and smartphones. SanDisk has announced a new line of memory cards that are aimed at gamers with several different formats available.
The new memory cards include the 16GB SanDisk M2 gaming card for the PSP go. A 32GB Memory Stick Pro Duo and Pro-HG Duo card is now available as well. These cards are for the PSP-2000 and PSP-3000 user and will work in certain Sony digital cameras.
SanDisk is also unveiling a new 8GB SDHC card for the Nintendo DSi that can be used for game storage and music. The M2 card in 16GB capacity sells for $142.99, the 32GB memory Stick Pro Duo card is $229.99, and the 32GB Pro-HG Duo card sells for $279.99. SanDisk's 8GB SDHC card for the DSi sells for $47.99.