SanDisk iXpand flash drive and Connect Wireless Stick boosted to 256GB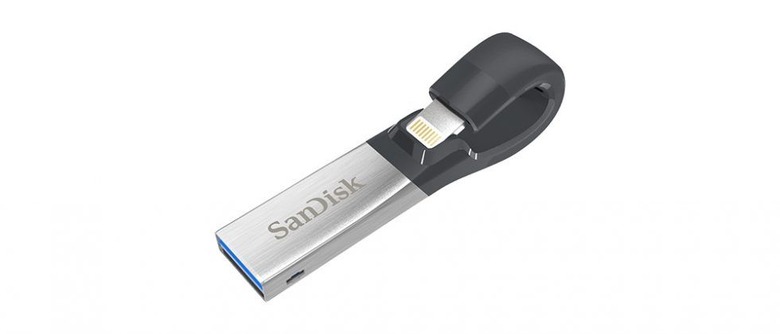 SanDisk has announced a new version of its previously launched iXpand Flash Drive for iOS. This newest version brings the same design as the previous version, but with a greater 256GB capacity. Joining the new iOS flash drive is the new SanDisk Connect Wireless Stick, likewise arriving with a 256GB capacity, but with the addition of password-protected WiFi.
Both devices are designed to offer increased storage options for those who need more than their iPhone and/or iPad provides. The iXpand drive has a small, flexible iOS connector for plugging the drive directly into the mobile device. The drive likewise has a USB 3.0 connector for transferring content to/from a Mac or PC.

The flash drive is accompanied by the iXpand Drive app for iOS, which has a new user experience and additional features. This app allows users to password-protect their files, as well.
The SanDisk Connect Wireless Stick, meanwhile, has a somewhat more traditional design, but it doesn't require users to plug it in to use it. This is thanks to the wireless feature, which works with the SanDisk Connect app to play, save, download and share content with devices. It does need to be plugged in to charge, however.
The new 256GB iXpand flash drive is priced at $279.99 USD, as is the new Connect Wireless Stick. Both are available now from various retailers.
SOURCE: SanDisk