SanDisk Fuze+ MP3 Players Announced, Available Now with New Design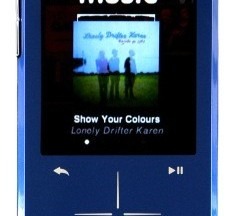 SanDisks' Fuze line-up of Personal Media Players have managed to remain present on the market for awhile now, without ever bringing too much attention to themselves. They're what you might call the "minimal" PMP, with not much going for them in the features department. Fortunately, SanDisk have finally managed to update the PMPs, not only giving them the favorite "+" symbol now, but also making them attractive enough to give a second glance.
The Fuze+ line-up features 3 capacities to choose from: 4GB, 8GB, and 16GB. If you choose one of the lower-memory models, you'll get to choose from several colors: white, blue, red, black, and purple. However, if you want the 16GB model, that only comes in black, so you won't be able to show off your terrible color choice to all your friends. Don't expect the feature set to knock you off your feet, but the Fuze+ players do support all major file formats, so that's good.
You also get full support for slotRadio, as well as full support for microSDHC cards. The User Interface is apparently slimmed down enough to make it simple enough for anyone to use, which may make some people out there bored. However, if one of these little guys is enough to ping your radar, then you'll be happy to know they're available right now. You can pick up the 4GB model for $79; the 8GB version for $89; and finally the 16GB for only $119.
Press Release
SanDisk Introduces the Sansa Fuze+ MP3 Player-Offering a Best-In-Class Combination of Features, Ease of Use and Value

New Player's Touchpad, Large LCD Screen, microSDHC Card Slot and Innovative "Film Strip" GUI Deliver a One-Of-A-Kind User Experience

MILPITAS, Calif.–(BUSINESS WIRE)–SanDisk Corporation (NASDAQ:SNDK), the global leader in flash memory cards, today announced that it has set a new standard for sub-$100 portable media players. The Sansa® Fuze™+ (plus) MP3 player is available now, delivering a best-in-class combination of features, ease of use and value.

"We developed an entirely new product to provide consumers with a stylish, affordable device that performs exactly as a sophisticated yet easy to use player should."

The Sansa Fuze+ portable media player, successor to the popular Sansa Fuze MP3 player, offers consumers the quality and flexibility they demand at a price that's hard to beat. The completely redesigned media player delivers a hassle-free and satisfying user experience that enables unparalleled freedom in how consumers access their favorite digital content. Music and video lovers can expand the player's storage capacity according to their needs, quickly navigate their libraries of files and enjoy high-quality audio and video playback.

"The Sansa Fuze+ is the most versatile portable media player available for under $100," said Tom Bailey, senior director, AV retail, SanDisk. "We developed an entirely new product to provide consumers with a stylish, affordable device that performs exactly as a sophisticated yet easy to use player should."

Feature-rich Form Factor

The Sansa Fuze+ portable media player offers sleek and thin styling that fits comfortably in the palm of a hand, and its new capacitive touchpad provides the sensation of using a touch-screen without obscuring the device's viewable area. The player's bright, colorful and large 2.4" QVGA LCD screen produces sharp, vibrant images when viewing videos or photos.

Consumer-friendly "Film Strip" GUI

The player's unique GUI operates like a film strip, enabling intuitive screen navigation that creates a more natural, crisp and satisfying user experience. Left to right finger sweeps select functions such as Music, Video, Podcasts, FM Radio and Photos, while up and down sweeps or double taps on the touch-pad let users explore and select individual categories and files.

Easy Compatibility

The Sansa Fuze+ portable media player's broad audio and video CODEC pack ensures easy compatibility with most major media formats.

* Audio: MP3, WMA, WAV, AAC/M4A (DRM-free iTunes songs), FLAC, Ogg Vorbis, Audible, Secure WMA, Podcasts

* Video: H.264, MPEG-4, WMV, Flip Video*

* Photos: JPEG, BMP, TIFF*, GIF*, PNG*

The Sansa Fuze+ portable media player is compatible with Windows, Mac OS and Linux operating systems. The media player is also preconfigured for seamless synchronization with Rhapsody, eMusic and Napster.

microSDHC Card Slot

The Sansa Fuze+ portable media player is fully compatible with SanDisk slotRadio™ cards or any microSD™ card loaded with music, photos or videos**. Consumers can slide these cards into the player's microSDHC™ memory card slot to instantly expand their music, photo or video libraries without consuming any onboard storage.

* SanDisk slotRadio cards give consumers immediate access to some of their favorite styles of music, including Rock, Country, Oldies, Classical and Hip Hop/R&B. Most slotRadio cards contain 1,000 songs**** featuring top artists from the Billboard® charts, and are available for only $39.99.

* microSDHC™ cards let consumers fill the player with additional content-up to 4,000 songs1 or 64 hours of video (H264 video @ 384 kbps)1 per 16GB card. This feature creates interoperability with compatible devices such as mobile phones with microSD card slots.

Additional Features

The Sansa Fuze+ media player's rechargeable battery lasts up to 24 hours of audio playback or up to five hours of video playback2. For enhanced versatility, the device also includes a recordable FM radio, gapless playback and a microphone for audio capture.

Pricing and Availability

The Sansa Fuze+ is available in red, white, black, blue and purple. The player is available now at major retailers and at sandisk.com in 4, 8 and 16 gigabyte (GB)*** capacities carrying MSRPs of $79, $89 and $119 respectively, although in-store pricing will be set by retailers.