SanDisk debuts new SSD U100 and iSSD i100 for tablets and ultra-thin notebooks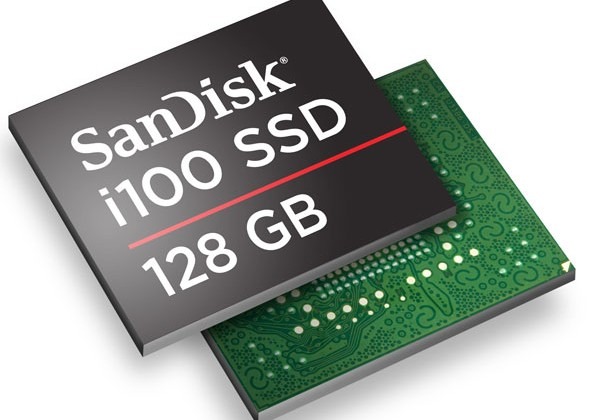 SanDisk makes a lot of flash-based storage gear from memory cards to SSDs that turn up in consumer systems and are used by OEMs for tablets and other devices. SanDisk has announced a pair of new SSDs at Computex 2011 called the SanDisk SSD series U100 and the SanDisk iSSD integrated storage device is a new capacity for the i100. The i100 is the world's smallest and fastest 128GB SATA III BGA-based SSD. It is aimed at the tablet and ultra-thin notebook market.
The iSSD measures 16mm x 20mm x 1.85mm for the 128GB version and has very impressive performance despite the small size of the storage device. The iSSD is good for up to 450MB/s sequential read speed and up to 160GB/s sequential write speeds. The iSSD is available in other capacities as well. We talked about the 64GB version of the iSSD back in August of 2010. The iSSD also comes in 8GB, 16GB, and 32GB capacities as well.
The U100 drive is the successor to the SanDisk P4 modular SSDs with a 2.5-inch form factor and multiple capacities. The drives can be had in 8GB up to 256GB versions. The U100 is good for sequential read speeds up to 450MB/s and sequential writes up to 340MB/s. The U100 line comes in several form factors with Half-Slim SATA SSD, mSATA, mSATA mini, 2.5" cased, and custom models.
[via SanDisk]