SanDisk Cruzer Titanium and Cruzer Micro Review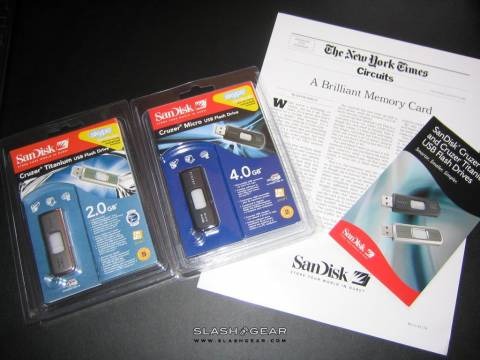 The storage capacity of USB flash drives gets bigger every day and with the huge number of models available the market is spoilt for choice; however, not all are equipped with same features and speed. In today's review, I'm going to benchmark the Sandisk Cruzer Titanium (2GB) and Sandisk Cruzer Micro (4GB) against the OCZ Rally (2GB) and JumpDrive Lightning (2GB).
Sandisk's Cruzer Titanium design is sleek and unique with its retractable USB connector, eliminating the need for a seperate USB connector cap. An LED light makes it clear when the drive is plugged in correctly. Made with Sandisk's "Liquidmetal" casing, the rugged Cruzer Titanium can withstand up to 2000 lbs of weight. As well as the drive itself, the package comes complete with a lanyard, a pocket clip, and a SKYPE voucher card for a month's voicemail service. The drive speed is rated at 15MB/s read speed & 9MB/s write speed. The Cruzer Titanium is U3 smart enabled, a platform that gives you the ability to bring portability not only to your files but also your applications (so long as they're U3 supported). The U3 platform only works with Windows based computers, though you can still use the drive as storage on Mac and Linux.
Cruzer Micro (4GB)
The Cruzer Micro has a similar case design to the Cruzer Titanium, however it is not made as ruggedly as its cousin. It has the same retractable USB connector as the Cruzer Titanium. SanDisk updated their Cruzer Micro lineup to make the drive U3 smart enabled.
Performance
Now that we've passed the introduction phase of the product let's do some benchmark testing. We're going to use a file that is 1.2GB in size.
Specs on the computer used for benchmark
- Intel E6600 CPU
- Asus P5WD
- G.Skill 2GB HZ DDR2
- NVIDIA GeForce 7800GTX
- Windows XP Pro SP2
- SiSoftware Sandra 2007 SP1
The first one is a simple write test that gives us an idea on real life performance.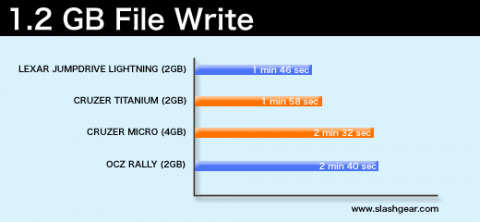 The Cruzer Titanium performed quite well, and although it's not the fastest within the group it was able to keep up with Lexas JumpDrive Lightning. The Cruzer Micro did better than the OCZ Rally but was significantly slower than the Cruzer Titanium. As shown in this benchmark, the Titanium series is definitely made for performance.
Now let's move on to the read test. To retain consistency we'll be using another 1.2GB file.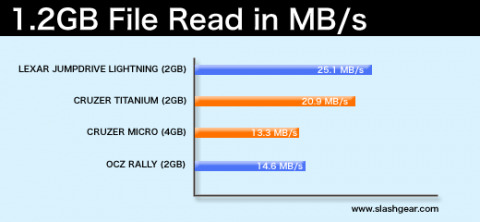 The result of file read is close to what we might expect to see: the Cruzer Micro is apparently a tad slower than OCZ Rally on this test.
Conclusion
Although the Cruzer Titanium is not the fastest drive around, it is nonetheless one of the fastest USB flash drives on the market. The Cruzer Titanium is priced at $109.99 for 2GB and $69.99 for 1GB.
As for the Cruzer Micro, it's a decent flash drive that turns in rather average performance. That it's U3 enabled definitely adds value to this product. The Cruzer Micro is priced at $179.99 for 4GB, $89 for 2GB, and $54 for 1GB.
About SanDisk Corporation
SanDisk is an internationally recognized authority on non-volatile memory technology and has grown to become the world's largest supplier of flash memory data storage products.
Serving both consumers (via over 100,000 retail storefronts worldwide) and original equipment manufacturers (OEMs), SanDisk designs, develops, manufactures and markets flash storage card products for a wide variety of electronic systems and digital devices. SanDisk also licenses its technology to a number of other industry-leading companies.
With flash memory's capability for storing large amounts of data in a compact, removable format, SanDisk's products have helped drive the exponential growth in sales of digital cameras, multi-function mobile phones, USB flash drives, and other digital consumer devices.