SanDisk has announced a new prototype memory card for photographers and videographers that has a huge amount of storage inside. The new 1TB SDXC memory card prototype is on display at Photokina and is aimed at people who work with high-resolution 4K and 8K files and content. Having a huge amount of storage space is a big deal because it is needed for that high-resolution content because the file sets that are handled can be enormous.
"Showcasing the most advanced imaging technologies is truly exciting for us," said Dinesh Bahal, vice president, product management, Content Solutions Business Unit, Western Digital. "Sixteen years ago we introduced the first SanDisk 64MB SD card and today we are enabling capacities of 1TB. Over the years our goal has remained the same; continue to innovate and set the pace for the imaging industry. The SanDisk 1TB SD card prototype represents another significant achievement as growth of high-resolution content and capacity-intensive applications such as virtual reality, video surveillance and 360 video, are progressing at astounding rates."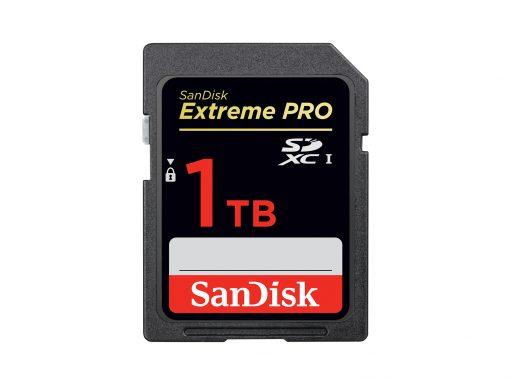 Since the 1TB SDXC card is a prototype, SanDisk is offering up no details on exactly how fast the card might be. The label on the card lists it as an SDXC I, but the card lacks the normal symbols for speed classes. If the card were a UHS Speed Class I card it would indicate 10MB/s performance.
"Just a few short years ago the idea of a 1TB capacity point in an SD card seemed so futuristic – it's amazing that we're now at the point where it's becoming a reality. With the growing demand for applications like VR, we can certainly use 1TB when we're out shooting continuous high-quality video. High-capacity cards allow us to capture more without interruption, streamlining our workflow, and eliminating the worry that we may miss a moment because we have to stop to swap out cards," said Sam Nicholson, CEO of Stargate Studios and member of the American Society of Cinematographers.
SOURCE: SanDisk