San Diego Fashion Valley Mall gets first public SAE combo DC fast charging station for EVs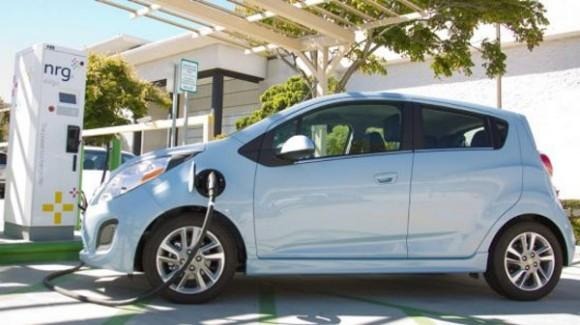 There are several factors that will come together to help promote more consumer adoption of electric vehicles around the United States. A couple of those factors include vehicles with battery packs that allow longer driving range and faster charging stations. GM has announced that the San Diego Fashion Valley Mall has become the first location for a public SAE fast-charging station for electric vehicles.
The SAE DC combo fast charging station located at the mall is the first public installation in the United States and the charging station standard is the result of an industry collaboration. The standard will allow for faster charging of plug-in electric vehicles. These the charging stations will dramatically reduce charge time for electric vehicles according to GM.
By combining AC and DC charging in a single connector, more electricity is able to flow into the vehicle making electric vehicles more practical because they can charge significantly faster. The charging standard is being used by many automakers including GM, Ford, Chrysler, BMW, Ballmer, Volkswagen, Audi, and Porsche.
Exactly how long it takes electric vehicles to recharge using the DC combo fast charger depends on the capacity of the vehicle battery packs. There's no indication at this time of when more these DC fast charger systems will be installed around California and the remainder of the country.
SOURCE: GM