Samsung may have brought a few new monitors to Gamescom last week, but that doesn't mean it's heading to IFA 2018 empty-handed. Indeed, the company is launching its new curved monitor in Berlin this week, and if you find yourself running out of screen real estate as you work on your projects, this definitely seems to be something to consider.
The CJ79 QLED monitor is a big release for a couple of reasons. The 34-inch monitor boasts a curvature of 1,500R and an aspect ratio of 21:9. With a resolution of 3,440 x 1,400, the idea is that something like the CJ79 could replace multi-monitor set ups by giving you enough space for all of your work on one display.
For creative types or business professionals who wish they had more display space, the CJ79's screen size might be the most attractive part. Samsung, however, has also outfitted this display with two 85W Thunderbolt 3 ports, which it says will offer "superhero" speeds of up to 40 Gigabits per second. Samsung's choice of descriptor for the speeds Thunderbolt 3 is capable of is interesting, but we're sure you get the idea nonetheless.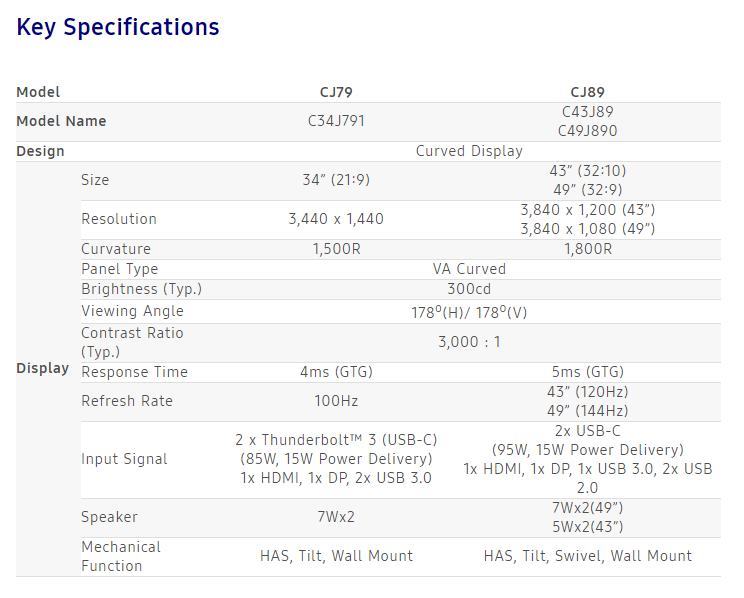 Multitasking expands beyond simply having more screen space, though. The CJ79 can be connected to two sources at once using its Picture-by-Picture feature. The second source can be resized to take up as much as 25% of the screen, so while you can't quite split your screen evenly between two different sources, it sounds like a feature that'll still come in handy. The CJ79 also supports AMD FreeSync, so if you've got an AMD GPU in your gaming rig, this might not be a bad monitor to go along with it.
In addition to the CJ79, Samsung announced two new monitors under the CJ89 umbrella as well. While these monitors share a lot of similarities with the CJ79, they're quite a bit bigger, with one model going all the way up to a whopping 49-inches. Check out all of the specs in the table above.
Despite being revealed all the way back at CES 2018, these monitors still don't have a US release date or price yet. Samsung, however, is launching these monitors in Europe at IFA 2018. They'll launch worldwide "soon," and when they do, we can probably expect a hefty price tags to go along with them.