Samsung's folding smartphone might not launch in the US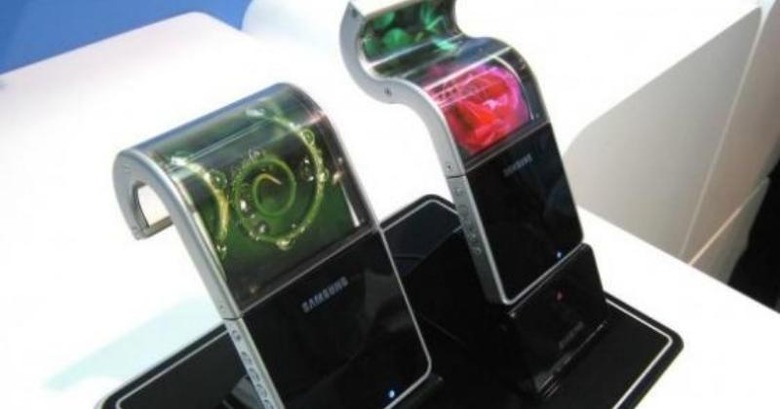 Although mostly drowned out by the curved edges and unimetal bodies, Samsung doesn't seem to have forgotten the boast it made a couple of years ago. Courtesy of its display-making prowess, it would make the world's first smartphone with a foldable display. Every year, the Korean OEM is rumored to be preparing its launch and this year is no different. Rumor says 2016 will be the year. But rumor also says that while it may be true, Samsung's exotic smartphone might not actually reach US shores.
The smartphone was said to be nicknamed "Project Valley". Whether that is a hint to its form or not, it isn't known. It was, at least, associated with a smartphone with a folding display. At this point, it isn't clear how Samsung will shape that smartphone. The manufacturer has had several patents showing different designs and Samsung could have taken any one of them.
It was only last month that word went around that Samsung might unveil Project Valley by January next year, perhaps together or a bit before the Galaxy S7 itself. This is definitely out of the ordinary and breaks Samsung's usual bi-annual cadence. But if the dates do match up, perhaps there is also credence that, like the Galaxy S7, it would also run on a Qualcomm Snapdragon 820.
There is more news now, but this time more disheartening. At least for those in the US. According to sources, Project Valley will initially launch in the following countries, with the matching model number:
• BTU – United Kingdom
• CPW – United Kingdom (Carphone Warehouse)
• DBT – Germany
• ITV – Italy
• KOR – South Korea
• NEE – Nordic countries
• XEF – France
• XEO – Poland
• XEU – United Kingdom / Ireland
Your eyes do not deceive. The US is not in that list. There is a possibility that these are just the initial markets and that the US might follow later. Much later. Still, it's rather surprising and even disheartening that Samsung would not immediately launch in one of the world's largest, and most profitable, smartphone markets. Perhaps Samsung considers the US to be less receptive of unconventional devices than those countries. After all, it took some time before the stylus-toting Galaxy Note was embraced and neither curved smartphones from LG or Samsung made the cut. But perhaps the times have changed and the US market is also ready for the Next Big Thing in innovation as well.
VIA: SamMobile