Samsung's foldable smartphone might show up at MWC 2017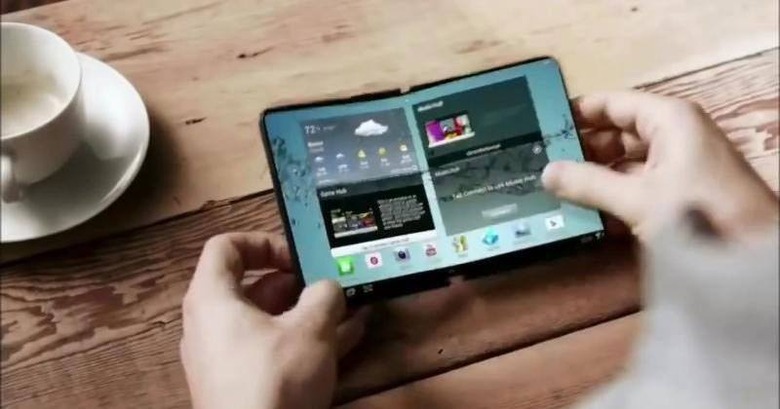 With the Galaxy S8 already scheduled not debut at MWC 2017 later this month, the attention of Samsung fans might be focused instead on the Galaxy Tab S3. However, the spotlight might actually be hogged by a device that might not even be released this year. Years in the making, Samsung is now rumored to be showing off some prototypes of its elusive foldable displays and devices, specifically a foldable smartphone, at MWC 2017. Of course, that doesn't mean it's actually close to launching one this year.
It has never been a secret that Samsung wants to make and sell foldable devices and it has been teasing the market as far back as 2012 with its flexible screens. It has always been a question of when and how, and, according to Korean media, at least the how will have some answers in the coming weeks.
Samsung is expected to have a private viewing of at least two types of foldable devices. One folds in like a book, with the display tucked inside the fold. The other folds out, with the display facing outward. Although a bit odd, the latter is considered more practical in terms of manufacturing and as well as for users, as they can still operate the device when folded.
Don't expect to have a clear look at those devices, though. The same sources said that Samsung is only hosting an exclusive private viewing for its customers and partners. That said, this day and age, we wouldn't be surprised if some leaks eventually reach the populace.
The question remains whether Samsung will launch such devices later this year, as theorized last year. On the one hand, it might have become a bit averse to taking risks after the fiasco that was the Galaxy Note 7. On the other hand, there is no better time than now to prove to the public, not to mention its investors, that it still has what it takes to remain a top dog.
VIA: ETNews