Samsung/AT&T Event, Infuse 4G Announced [Update: Available May 15]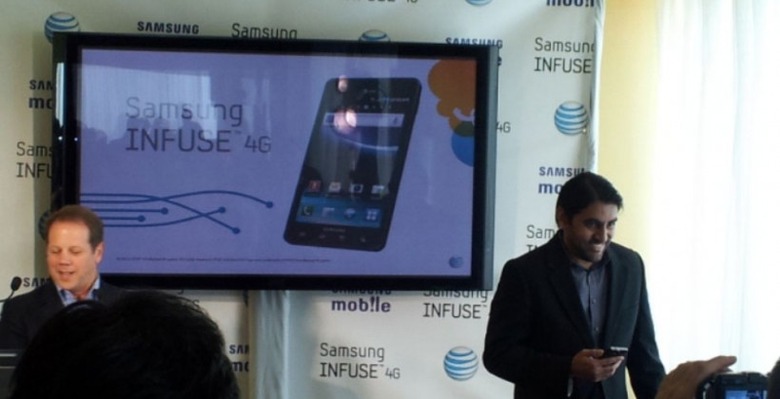 We're here at the Samsung AT&T event, and the big announcement is...the Samsung Infuse 4G. Philip Berne has called this phone "remarkably light", weighing less than the Nexus S, even with a screen that's half an inch larger, and with a bigger battery. Plus, it has that stunning, tear-inducing Super AMOLED Plus display that we love so much on the Droid Charge. If AT&T can get this on the market super quick, they might be the first to do so.
A few more specs here: This phone sports a 4.5-inch screen, running Android 2.2 Froyo, and with a RM Cortex A8 1.2GHz processor. It has an 8MP camera on the back and 1.3MP camera on the front. This most definitely is the precursor to the Samsung Galaxy S II. It will be $200 on contract and will be coming out on May 15th.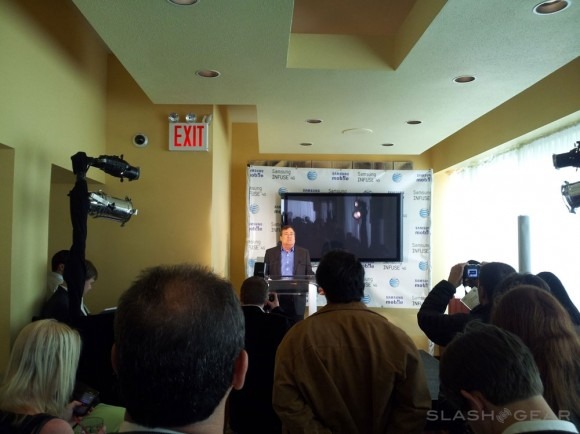 They've also slipped in an announcement that there'll be an Angry Birds contest coming up somehow or another tied in with the phone. It appears that the gameplay (if this slide is any indication) will be exactly the same, but perhaps a hidden Infuse in some eggs or boxes? Who can tell?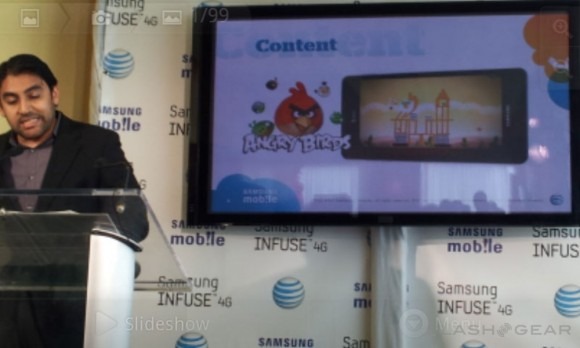 We've got a hands on and unboxing coming imminently, so stay tuned, and expect a full review before the weekend. Park it right here, because we are throwing out all the details as they happen.