Samsung Wave S8500 Review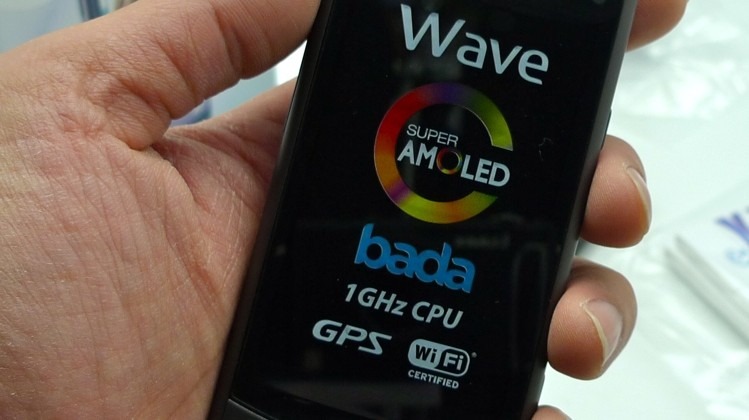 From its confusing launch back in December 2009, to its feature-packed handset debut at Mobile World Congress and then all the way to the SlashGear test bench today, Samsung's bada OS has had a rocky journey. Showing up for the first time on the Samsung Wave S8500, the new platform promises the flexibility of a smartphone OS with the easy usability of a feature-phone. That makes this a double review, perhaps: new platform, new phone. Does bada really have a future in the competitive cellphone market?
In terms of hardware, there's plenty to like about the Wave S8500. Measuring a slender 10.9mm thick, the fascia is taken up by a 3.3-inch WVGA Super AMOLED display, brighter than regular AMOLED, while there's a 5-megapixel camera with LED flash and autofocus, 720p HD video recording, WiFi b/g/n and Bluetooth 3.0. Otherwise it's the usual mixture of dualband (900/2100MHz) HSPA, quadband GSM/EDGE, a microSD card slot (augmenting 2GB or 8GB of internal storage, SKU depending), A-GPS and a 3.5mm headphone socket. Keeping things running is Samsung's own 1GHz Hummingbird processor, and the whole thing feels high-quality with a metallic chassis that's certainly more smartphone than it is feature-phone.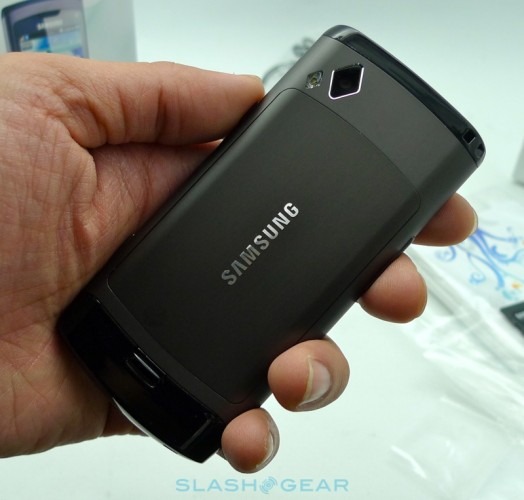 There's plenty to love about Samsung's Super AMOLED technology: the display is brighter and crisper than regular AMOLED (and far more color saturated than LCD), and Samsung reckon outdoor visibility is improved too. You still won't be using the Wave in direct sunlight, but it's certainly an improvement over, say, the Nexus One's display, which requires a cupped hand in order to be usable outdoors. It's worth noting that the effect isn't solely one of the "Super" technology, but thanks to a high-visibility color scheme Samsung use. Meanwhile there's less gap between the glass front and the AMOLED layer itself, which gives the impression that the display is floating directly on the surface of the phone rather than inset slightly into it.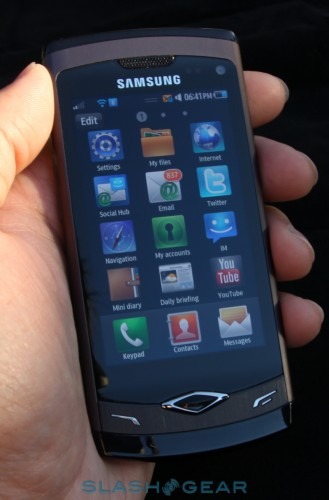 As for what that screen gets to display, it's the semi-familiar look of Samsung's TouchWiz 3.0 UI. bada may have different underpinnings from Samsung's feature-phone range, but at first glance you could be forgiven for not noticing it. There's a step toward widgets, like you'd find on an Android homescreen, but it feels a little half-hearted. A fixed row of icons runs along the bottom of the screen – for phone, contacts and messages by default – and then there's some space for widgets in the remaining area. These vary in complexity from overdesigned shortcuts to email and social networking access, including an HTC Friend Stream style combined feed which shows you updates from Twitter and Facebook and allows you to retweet, reply and comment as applicable. When you first turn on the Wave you're invited to log into your various networking accounts, together with internet mail and even Exchange, though actually connecting phone contacts to their Facebook and Twitter identities is more manual than we'd prefer. Samsung promise more widgets will be available in the bada store, but so far there's only a limited number of options.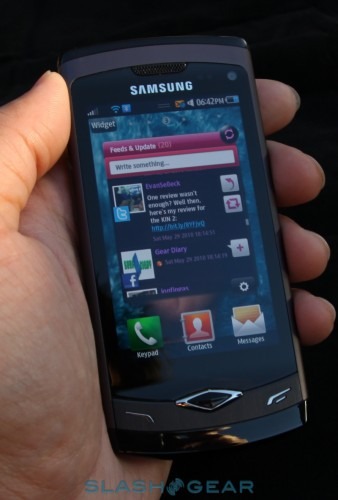 You can't help but feel like Samsung have taken their inspiration from existing smartphone OSes, piecing together their favorite parts and then adding in a little of their own innovation. The drag-down notification bar is very similar to what you'd find on Android, though Samsung have added in useful WiFi/Bluetooth/Silent Mode toggles, while the unified search feels a little like what you'd find on the iPhone albeit with an unusual access mechanism: you physically double-tap the phone to call up the search page. Meanwhile the on-screen keyboard looks a lot like that of the iPhone, though it falls short of the Apple handset's responsiveness. That's in no small part down to the frustrating auto-connect software Samsung have implemented, which is obstinate about accepting words it doesn't already know and laborious when trying to flick between alternate suggestions.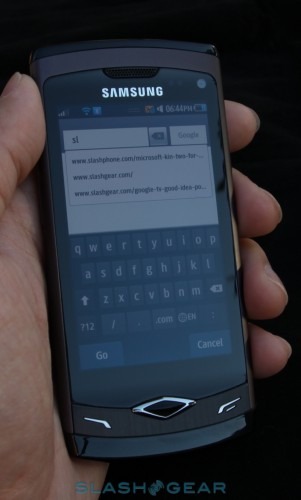 If anything, we wish Samsung had used a bigger display. The 3.3-inch screen is reasonably sized for landscape orientation typing, but feels cramped in portrait. It's also less than accommodating when using Samsung's mediocre web browser. That lacks Flash support – topical, but perhaps no great loss when you think of the smallish display being crowded by blinking ads – but more annoying is the absence of text reflowing (watch video below) that leaves you doing a lot more panning and zooming than you would on rival devices. It's also slower than you'd expect, given the 1GHz processor; as far as we're aware this Wave is running production firmware, and pauses, freezes and general sluggishness are less than impressive. WiFi b/g/n is a nice touch, but the software itself is the weak point in the chain.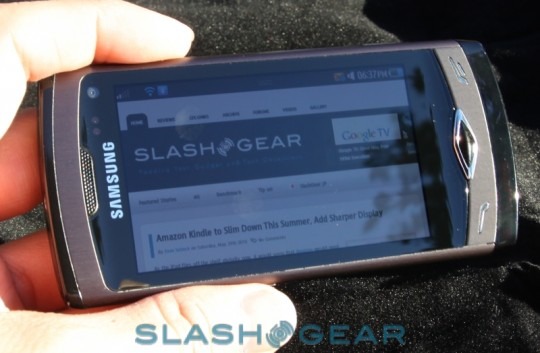 Instability isn't limited to the browser, either. The Wave S8500's much-hyped 720p HD video recording is great, until the camera app locks up and demands the battery be pulled before you can use the phone again. It happened to us more than once, and the inability to simply close the camcorder and restart it meant we invariably missed what we'd wanted to film. What makes it doubly frustrating is the fact that, when it behaves, the Wave is capable of some great photography. Still shots are bright, crisp and have natural color balance, helped in no small part by the Wave's automatic scene selection system. There's a nifty panorama view, which takes advantage of the phone's accelerometer to guide you, but best of all is the absence of lag between hitting the shutter button and the photo actually being taken.
As for 720p HD video, when it actually works the quality is similarly high. Settings include slow motion, together with the more regular brightness, color, contrast and exposure, and with a capacious microSD card we could see the Wave replacing a point-and-shoot camcorder; that is, as long as the software instabilities get ironed out.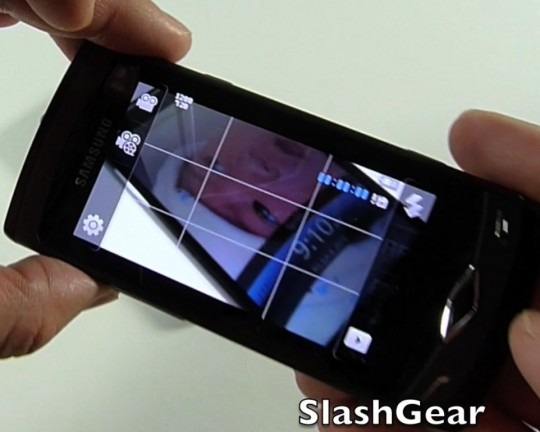 Sample video (click through for 720 view)
Sample slow motion video:
If you're more interested in media playback, Samsung's list of supported codecs doesn't disappoint; in fact, it puts most smartphones to shame. MPEG-4, H.263, H.264, WMV, DivX and Xvid can all be played using the Wave's native media app, making it a simple matter to transfer files from your computer straight to the phone without having to convert them first. Samsung seem to recognize that owners will take that as an invitation to load up dozens of clips and then get frustrated trying to navigate them, so there's a useful Mosaic Search which automatically creates a page of thumbnails detailing every few minutes through a clip. Most video played back smoothly – though we had some issues with higher bitrate footage – and audio quality is high. Samsung use the 5.1 SRS Surround Sound system, and it does actually make a noticeable difference to video soundtracks; we were less impressed by how it makes regular audio sound, though.
With all those codecs on offer, it's frustrating not to have an HDMI output for hooking the Wave S8500 up to an HDTV. Instead Samsung load their AllShare media-sharing app, which basically allows you to stream content over WiFi to a PC or Samsung internet-connected TV. Alternatively, you can stream from your PC to the Wave. It's one of a few little gems Samsung have preloaded – or presumably baked into bada – with another being a 3G mobile router app that allows you to share the Wave's 3G connection with various WiFi clients. That's something we're seeing more often on smartphones, but not so much the feature-phone market.
Something else we're not so used to seeing outside of smartphones is an app store for downloading new software to your handset, and of course this is where bada's hybrid featurephone/smartphone positioning starts to show its colors. One day, if Samsung can coerce developers to jump on-board, the bada app store might be a real selling point, but in its fledgling stage it's a poor experience. What apps are there range in quality, too, perhaps down to Samsung's relative flexibility in how they'll allow developers to code them. Not only are Java and Flash supported, but Web Runtime and C++, and developers are only now getting to grips with the bada SDK. In time we might see some gems – there were quite a few interesting looking games being demonstrated back at MWC in February – but for now it's not the Wave's biggest selling point.
If the bada app store was somewhere we were hoping to see the Wave err on the side of smartphones, battery life is something we wanted to fall more on the feature-phone side of the fence. Happily, while wireless longevity falls short in comparison to some feature-lite devices, the Wave S8500 puts in a stronger showing from its 1,500mAh Li-Ion pack than other handsets with similarly sized batteries. With WiFi turned on we managed a couple of days casual use.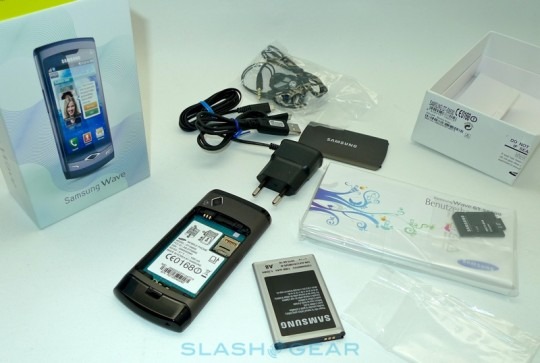 The Wave S8500 is most definitely a phone of two halves. Its hardware is modern, tactile and brilliant in places; its software is in-distinctive, underwhelming and feels short-sighted in terms of where the rest of the industry – even where just Samsung themselves – is headed. Still, you could argue that Samsung have succeeded in their positioning of the handset simply by the fact we're comparing it to smartphones rather than feature-phones. Our concern, nonetheless, is that bada is attempting to break into a market that's already packed with capable alternatives, Android being perhaps the most obvious. Given that Samsung's Galaxy S is due imminently, packing similar specifications – including a great Super AMOLED display – but eschewing bada for Android, our inclination would be to lean toward the more established OS.s
We described this as a double review, but in the end there's only one question: would we recommend the Samsung Wave S8500? There's no doubting that it's a handsome, well made and attractive device, with a spec sheet that could overshadow some legitimately smartphone-segment rivals. Unfortunately, we're left unconvinced that bada is the way forward. Those tired of their feature-phones will get a more significant step up in functionality by opting for a true smartphone platform, and existing smartphone users tempted by the Super AMOLED display will likely find bada frustratingly underbaked in comparison to what they're used to. Samsung obviously hope to carve out an mobile device OS niche that they can control, rather than relying on the platforms of others, but they're yet to explain exactly why that's a better deal for consumers.
Hands-on / demo video
[vms cecb0778afbc7924494a]
Samsung Wave Unboxing video:
[vms 33a83d663b8d9fb4be56]