Samsung Unveils The Thinnest Phone In The World (For Now)!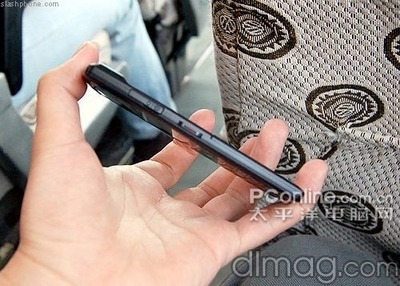 The whole "skinniest phone" war has been dragging on for a while now. Motorola, Samsung of Korea, and VK Mobile have all been major players in this competition, and each has been pretty impressive. VK Mobile was the last crowned king in this genre, with a phone just 8.8mm thick! Samsung has responded with an even thinner model, measuring 0mm and consisting of thin air. Alright, I'm just kidding about that, but seriously, these phones are getting small! Samsung's real response is the X828, a tiny phone that's a mere 6.9mm!
The 6.9mm is officially the thinnest phone out there, but it's obviously just a matter of time until it'll be replaced, so don't buy on the basis of slimness alone. The phone has some other cool features, so you'll still be enjoying a decent unit far after the appeal of "the small phone" is gone. The camera here is 2 megapixels, which is beyond impressive for such a slim body. Unfortunately, even Samsung couldn't pull it off perfectly, and the camera module part of the body is slightly thicker than 6.9mm. The screen is 1.9" in size, with 262,000 colors. That rather small screen will be your navigational guide to the built in media player of the X828. There's only 80MB of built in memory, so I'm not sure that you'll be able to build a decent media library on this thing. At least Samsung is showing the wireless peripherals some love, as the X828 features full Bluetooth support!
This is a bit of a gimmicky phone, but Samsung has thrown in sufficient goodies to make it a reasonable purchase on other accounts. Sure, it won't be the thinnest phone forever; it'll probably be dethroned in the near future. However, it'll be quite surprising if thinner phones will still be able to support a 2MP camera, and a media player! A slim phone by itself isn't exactly a blessing. The X828 can offer quite a bit, while it's still able to fit in the back pocket of your tightest jeans. That's a sure sign that Samsung did something right.