Samsung unveils Pico Projector accessory for Galaxy products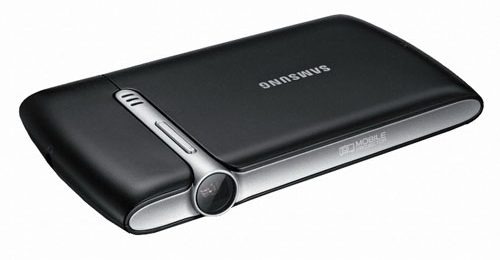 Samsung's efforts with the Galaxy Beam were valiant, but the device itself disappeared into the abyss with no real impact on the market. However, Samsung is trying it again, but this time they're making a dedicated Pico Projector accessory built to be compatible with the company's Galaxy line of products.
The Samsung EAD-R10 mini-projector is currently available for sale in South Korea, and all you needs to do to get it up and running is connect a MHL-supported Galaxy device to the projector and then you'll be off to the races, projecting images with up to 20ANSI lumens and an nHD resolution (640×360).
The projector accessory features a loudspeaker, a focus control button, HDMI-out, and a 1650mAh battery, with a price of around $220. The device is about as big as a Galaxy S III, and it's only about a half of an inch think, so it can easily fit into a pocket for portability purposes. It also has a full-size HDMI-in port so you can also plug it into laptops and other devices.
The device promises two hours of non-stop projecting, and hopefully that's true, since most movies are usually an hour and a half to two hours long. We're not sure if this new accessory will be hitting other countries or not, but even if it did land in the US, we're not sure if the device would really take off, especially considering the $200+ price tag.
[via Android Community]