Samsung unveils Diva S7070 and S5150 for 2010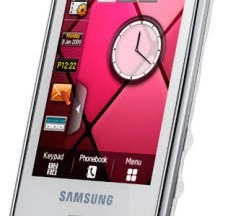 Women are some of the most prolific buyers of technology and mobile phones on the market. Many women want the same things that the guys want in a mobile phone with lots of features and high tech design. Many women also want handsets that have a feminine style and look more glam than most men desire.
Samsung has announced a couple handsets in its Diva Collection 2010 that are aimed at women. The handsets include the Samsung S7070 and the Samsung S5150. Samsung says that the handsets are intended to satiate the inner needs of women mobile phone users. The S7070 is a regular tablet style phone that must be a touchscreen, though the PR doesn't say one way or another.
The release focuses more on the style with its pearl white back and the diamond shape crystal on the front. The handset also has a 3.2MP camera and offers messaging services. Two interesting features include SOS Message and a Fake Call to get those geeks to stop hitting on you. The S5150 is a flip phone with a similar design offering most of the same features. There is no word on pricing or availability at this time.