Samsung under-display camera confirmed by Samsung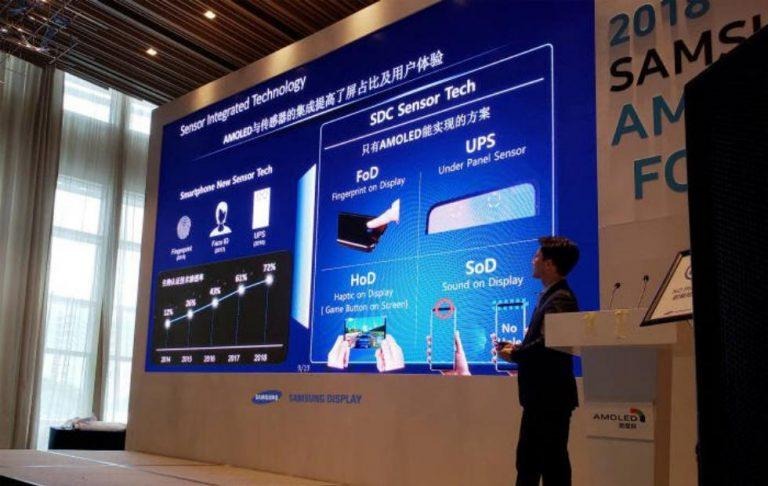 Samsung is close to approaching the tenth anniversary of its premium Galaxy S line but it might already be celebrating early with a couple of innovative, or crazy, smartphones next year. In addition to the foldable Galaxy F, Samsung might be cooking up something in its own labs that no smartphone has just yet. That is the rumored in-screen or under-display camera that could be headed to at least one of its smartphones next year. And confirmation of that feature has practically come from Samsung itself.
Samsung Display recently held its annual OLED Forum at the Shenzhen Marriot Hotel in China. Here, the company's screen-making business laid out its roadmap for 2019, focusing on four kinds of sensors and hardware that would be hidden beneath the screen. Naturally, one of those slides leaked out, revealing to all where Samsung's phones are headed.
Based on that image and @Ice universe' explanation, those four "Sensor Tech" include the long-overdue Fingerprint on Display (FoD), Haptic on Display (HoD) for gaming, and Sound on Display (SoD) that might be similar to what Xiaomi and Vivo (but not OPPO) have accomplished using piezoelectric motors. Of course, the biggest news here is the "UPS" or Under Panel Sensor, which is, for all intents and purposes, is taken to mean a camera underneath the display.
Great news! Samsung established the direction of mobile phone design in 2019!
On October 18th, Samsung Display invited about 20 customers to hold the "2018 Samsung OLED Forum" at the Shenzhen Marriott Hotel in China. At the meeting, Samsung showed a PPT pic.twitter.com/sYu0ORTd6V

— Ice universe (@UniverseIce) October 19, 2018
There are some arguments that this UPS could instead refer to other sensors instead of just the camera, though the large dashed circle in Samsung's slide seem to imply otherwise. XDA also adds to the theory, and to the excitement, by saying that the area of the display immediately on top of the camera sensor would turn transparent when using the front camera but would otherwise be normal in other use cases.
Samsung is already able to selectively control individual pixels on its Super AMOLED screen but turning them transparent will be quite an accomplishment. That is if they do manage to pull it off. Given how even an FoD still doesn't exist on a Samsung phone, flagship or otherwise, we can expect this UPS to probably take a bit longer to cook behind closed doors.