Samsung U Flex: wireless headphones with Bixby support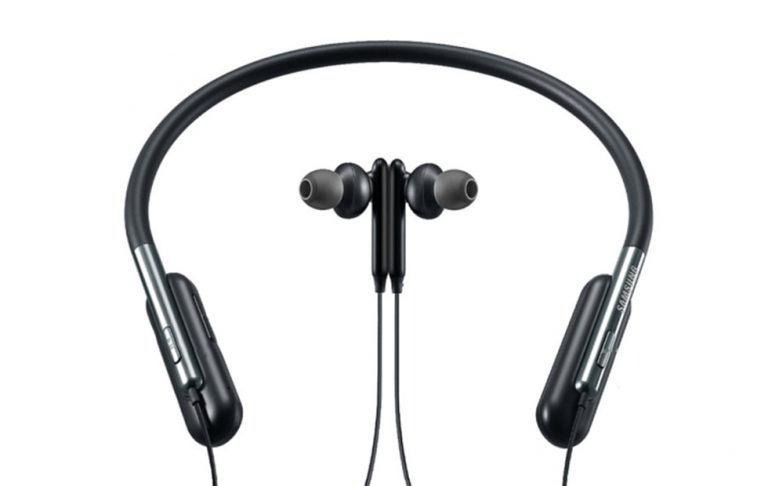 We may receive a commission on purchases made from links.
Samsung has created a new pair of wireless earbuds that are flexible enough to withstand life in a bag, a pocket, or other places where folding is necessary. Called the Samsung U Flex, these headphones are designed to handle the typical uses and abuses that come in an average day, whether that means getting caught jogging in a light rain or having someone tug on the earbuds' neckband.
The Samsung U Flex earbuds feature the same neckband design popularized by LG; it isn't to everyone's tastes, of course, but those who don't mind having a bit of plastic around their neck will find the U Flex suitably flexible. According to the Korean company, these earbuds can handle being bent up to 100-degrees, which means you can pull the ear pieces around to form a full loop. Despite being bundled up this way, Samsung says U Flex will retain its proper shape.
As far as the ear pieces are concerned, users will find the same design included with the Galaxy S8 in-box earbuds. There's likewise 11mm woofer speakers, 8mm tweeters, and the promise of 'power bass, deep mids, and clear highs.' Overall, Samsung says its U Flex offer sharp and balanced audio. The Bluetooth connection, meanwhile, is kept stable via the use of Samsung's own Scalable Code tech, which monitors for any ambient interference from WiFi and makes judgments as necessary.
As we'd expect, Samsung has also packed in compatibility with Bixby, its personal assistance, as well as its older S Voice feature. While this support is only available with certain phones, it allows Galaxy S8 owners to deal with the voice assistant using the earbuds. The earbuds also support some phone functions like the company's own Health app, the clock and timer apps, and accessing Favorites. Users are given control over what the Active Key will do when activated.
Finally, the headphones pack a vibration feature that alerts wearers to an incoming call. There's also a P2i nano-coating that helps keep the earbuds protected from what Samsung describes as 'splashes,' indicating you don't want to get them too wet. Meanwhile, a single charge should get you through a solid ten hours of playback, says Samsung; that's at least enough for a full work day.
It looks like the headphones are currently available to buy from some retail stores; price wasn't stated.
SOURCE: Samsung