Samsung Tocco S8300 Ultra Edition review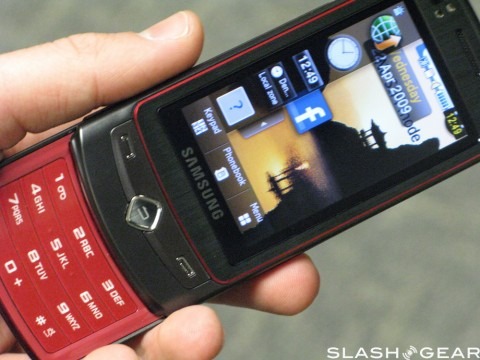 The Samsung Tocco is a sleek slider/touchscreen combo feature phone that packs a ton of functionality into a small form factor. It's stylish and nice to use, and the red color will draw attention from those around you (at least it did for me). The phone was enjoyable to use, and Samsung's TouchWiz UI was implemented nicely. Most noticeable on this phone is AMOLED display, which shines beautifully in any light, even outside.
The basic functions of the phone were decent as expected. Calls were clear enough, and reception was ok, though I received a bizarre hissing sound just before callers would speak, and the volume of their voices would increase subtly during the conversation. I'm not sure if the phone was doing this on purpose to adjust for ambient noise on my end, but it got annoying after a while. The one feature I wish I could have tested but never got to work was the video calling functionality (partially because I don't know anyone with a video-call capable phone).
Web browsing on the device was hindered by the inability to browse in landscape mode. I'm used to every new Samsung phone having an accelerometer in it that the Tocco's lack of one made the experience a little less enjoyable. There's nothing WRONG with portrait, it just doesn't give you as much screen real estate as you would like.
The dedicated widgets on the homescreen make accessing Google or Facebook super easy, and the TouchWiz UI was implemented beautifully on the AMOLED display. The screen is gorgeous and bright, with amazing viewing angles.
Of all the camera phones I've ever used, including Samsung's own Memoir, this one is the nicest and highest quality I've seen. The 8.0MP really feels like you're using a point and shoot, and the photo quality isn't soft from noise reduction, or overly harsh from not enough of it. The LED flash is very bright, but sometimes washes out the picture with too much white light. There's a healthy stock of photo editing features too, but the really impressive inclusion here is the video editing features. You have a mini studio built into the phone that is easy to use and understand, and doesn't inundate the user with too many options. It keeps it clean and simple to use, and produces relatively quality cuts for short film clips on your mobile device.
The S8300 is attractive and feature rich, with many positive aspects that will make it a great phone to use (especially when video calling gets popular in the U.S.). The version I was sent is a UK phone, unlocked for use wherever. We can hope to see the S8300 Tocco on our shores...well we don't know. But you can count on us to tell you when we find out!