Samsung tipped to finally have a foldable smartphone in 2017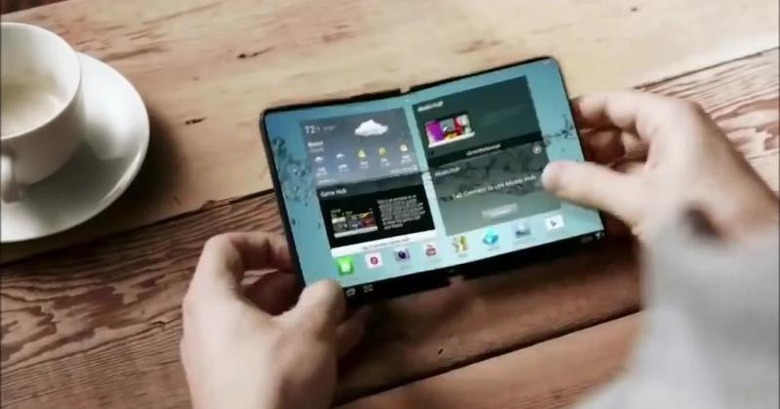 At CES 2013, Samsung played a video showing off its dreams of a foldable mobile device, built around its then new YOUM flexible display brand. It would take nearly half a decade, but that fated day might finally be upon us. According to sources speaking on the condition of anonymity, Samsung is ready to show the world the first smartphone that will not only have a bendable display but also fold out from a smartphone to a small tablet. And it could be revealed as early as MWC 2017.
Samsung has made no secret about its ambitions for a foldable smartphone slash tablet, but for the past years it has been rather busy trying to solve one of the key problems of that dream: flexible, bendable displays. As demonstrated by its curved TVs and curved edge smartphones, Samsung has gotten that part down to a T. Now it's finally time to move forward towards the end game.
Of course, a smartphone isn't just made of a display. There are parts involved that may not bend so easily, primary of which is the battery. Depending on what form "Project Valley", the codename given to this folding smartphone, will take, Samsung may not yet have to deal with that part of the puzzle. According to the source, the first of two such smartphones to be revealed next year will take the form of a 5-inch smartphone when folded and an 8-inch tablet when unfolded. In that case, many of the other components could remain rigid while the display folds in the middle, pretty much like its 2013 made-up ad.
Hardware is also just one part of the puzzle, albeit the biggest and hardest to address. Software will also be a concern and, again, depending on the form of the device, Samsung may or may not already have a solution readily available. Regardless, if Samsung is able to pull off an Android-based user experience for this kind of device, few will probably complain if it modifies the Android interface too much.
The source says that Samsung could unveil the first device in February, right around MWC 2017, though that doesn't necessarily mean it will launch soon. It would compete with the next Galaxy S smartphone for attention and purchases, which might not be healthy for Samsung's nominal flagship. That said, Samsung also won't give this device the "S" brand, and will most likely file it under the usually more experimental "Note" line.
SOURCE: Bloomberg