Samsung Stripe and Band batteries are flexible, target wearables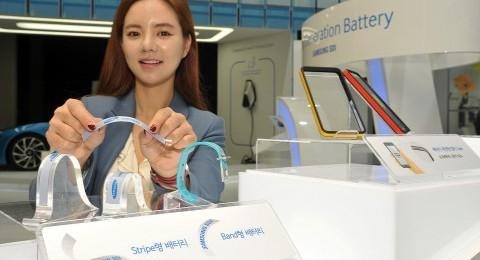 When it comes to wearables, batteries are one of the biggest limitations. For all their features and flashiness, smartwatches still suffer from relatively poor battery life, and those batteries represent design limitations (or, conversely, the wearables' designs limit the battery choices). Different research collectives and companies have been working on battery technologies to remove the shackles, and one of them is Samsung, which recently introduced its new Stripe battery.
Earlier this week, Samsung introduced Stripe and Band batteries at the InterBattery 2015 event in Seoul. The batteries hint at the future of wearables, or at least the future of wearables' batteries; they're notable for multiple reasons, chief among them being the batteries' flexibility.
Firstly there's Stripe, which can bend to match the contours of a person's body, such as their wrist. The flexibility is said to be akin to that of fiber, allowing it to be used in gadgets like smart bands, necklaces, t-shirt accessories and similar devices. Despite having a higher density than comparable batteries, Stripe is only 0.3mm thick.
In addition to Stripe, Samsung also showcased the Band battery, which is designed specifically for smartwatches. The battery is design in such a way that it can be "applied on the bands of any smartwatch," says Samsung, where it will boost the battery capacity by more than 50%. After being bent more than 50,000 times during testing, the battery still operated normally.
Production plans for the batteries wasn't detailed.
SOURCE: BusinessWire