Samsung 'SmartCam' 1080p home security camera surfaces online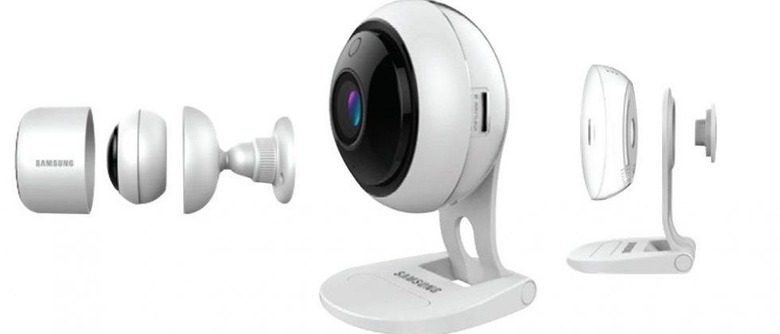 It appears Samsung is gearing up to launch a new consumer-tier security camera, one designed for use in and around one's home. The camera has appeared on Best Buy's website with the name 'SmartCam,' though the Korean company hasn't officially announced the product at this time. The listing shows the camera as featuring a 1080p resolution with WiFi support. The launch date isn't known, though.
The camera is listed as 'Coming Soon,' and doesn't appear to have been an accidental posting, as it is still live on the retailer's website. The images included on the listing are very low resolution, oddly enough, though the feature's list is complete. Counted among those features is infrared night vision suitable for nighttime recording at distances up to 49ft.
The camera is equipped with a CMOS sensor offering 1080p Full HD video, as well as 10x zoom, a Wide Dynamic Range, digital audio via an integrated microphone, and support for SDXC memory cards to save footage locally. The camera can be set to record only when it detects motion, helping reduce unnecessary video recording and make footage reviewing more convenient.
The camera offers a decent field of view at 130-degrees, and it can be used in many different places. The outdoor suitability and special mount shown in the image above allows it to be mounted outdoors, such as on the side of a house or above a front door; there's also a traditional hinged stand for placing the camera on a flat surface indoors.
SOURCE: Sammobile