Samsung Smart TV SDK 3.5 exposes voice and gesture recognition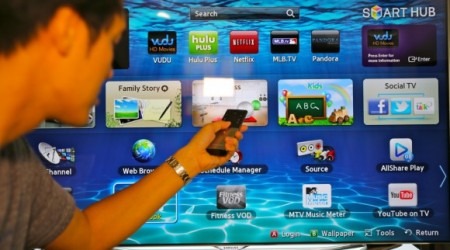 Samsung looks to be doing everything in its power to make sure Smart TVs are a success. Today the company has announced SDK 3.5 for its Smart TV platform, which will allow developers to tap into features like voice and gesture recognition and add the functionality into their own apps. Samsung has made some more minor changes that should help the development process too.
The biggest change for developers will be the change of the IDE. Previously if you were coding for the Smart TV, you were restricted to Samsung's own IDE which is said to be less than ideal. Samsung has now added support for Eclipse as the IDE, which should be easier for developers going forward. Remote Control now has its own separate process, and app developers can now change the input method from within the emulator.
Samsung has high hopes for Smart TVs, extolling the virtues of the platform back at CES 2012. The company has been shipping its 2012 lineup for several months now, and is hoping users, as well as developers, will jump onboard thanks to the voice and gesture recognition features. We spent a little bit of time with one of Samsung's Smart TVs to give both features a whirl, so make sure to check out our hands-on to see how it all holds up.