Samsung Sliding PC 7 Series Unveiled at CES 2011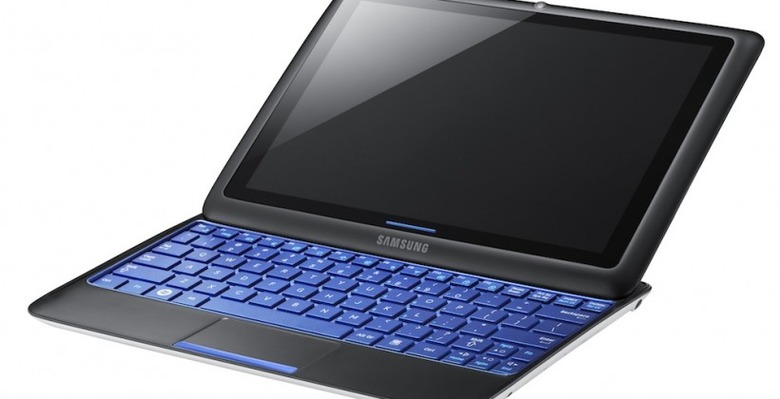 Samsung, following closely in step with the previous announcement of their Series 9 super-thin notebook, have just announced the brand new Sliding PC 7 Series, which is meant to combine the world of a notebook and mobile PC. This is Samsung's first sliding tablet PC device, and they've decided to go with Microsoft's Windows 7 Operating System. Under the hood, Intel's made a nice little home, and the device only weighs 2.2 pounds.
There will be two options for potential customers: a 32GB model, or a 64GB version. Both of which utilize mSATA SSD. The display is a 10.1-inch version, with a capacitive touchscreen. It's an HD LCD with a brightness of 340 nit. The resolution is 1366 x 768. Inside, you'll find an Intel ATOM Oak-Trail Z670 clocked at 1.66GHz. There will be 2GB of DDR2 memory.
There's a 4-in-1 memory card reader, and a single USB 2.0 port. There's also an HDMI out port. A 1.3MP webcam will make video chat possible. The Sliding PC 7 Series features a 6-cell battery, that Samsung wagers will last 9 hours with usage. The full press release is below for more information.
Press Release
Samsung Creates a New Category of Mobile PC with the Samsung Sliding PC 7 Series

Combining the Benefits of a Laptop and Tablet PC, the PC 7 Series is Ideal for Creating and Consuming Content

LAS VEGAS, NV, January 5, 2011 – Samsung Electronics America Inc., a subsidiary of Samsung Electronics Corporation, today announced the launch of its first sliding tablet PC at the International Consumer Electronics Show in Las Vegas. Equipped with Microsoft Windows 7 operating system and powered by the upcoming Intel® Atom™ processor platform, currently code-named "Oak Trail," the PC 7 Series maximizes the benefits of a tablet PC with its compact, light design, and incorporates a sliding keyboard for easy typing, enhanced productivity and performance. The display elegantly slides up to reveal a physical keyboard giving the user the option of a multi-touch display or full keyboard and mouse interface.

"With the proliferation of tablet devices, there is a demand from consumers that want the elegance, ease-of-use and portable form factor of a tablet but also the familiarity of a notebook," said Scott Ledterman, director of mobile PC product marketing at Samsung Enterprise Business Division. "At first glance, the Samsung PC 7 Series is a compact, light-weight tablet featuring an intuitive touchscreen. However, once the display is slid into place, it reveals a physical keyboard that offers users the familiar keyboard/touchpad interface. The Samsung 7 Series is creating a category unto itself, with a total solution that is not only chic and convenient for content consumption, but also versatile enough for more intensive computing and content creation."

"The Samsung Sliding PC 7 Series is a great example of the deep collaboration between Microsoft and Samsung, from engineering to marketing," said Steve Guggenheimer, corporate vice president of the OEM Division, Microsoft Corporation. "This joint innovation delivers a unique PC design and rich mobile computing experiences for our mutual customers."

"Innovative designs based on Intel Atom processors offer not only improved performance and sleeker devices, but also new, creative form factors," said Doug Davis, vice president and general manager of the Netbook and Tablet Group at Intel. "The Samsung Sliding PC 7 Series demonstrates how state-of-the-art form factors can help consumers stay connected, while also providing rich, immersive PC-like experiences on the go."

Pioneering Design

Weighing just 2.2 pounds, the Samsung Sliding PC 7 Series is easily packed into a briefcase and can be used for making presentations or for recording data on the fly. The 7 Series is suited for both indoor and outdoor use with 340-nit brightness 10.1-inch display supported by an enhanced HD resolution (1366 x 768). With its slim and light weight design, the 7 Series allows for mobility without compromising functionality in personal or professional settings.

Everyone from students to mobile professionals can enjoy the convenience of Samsung's Sliding PC 7 Series. The form factor is ideal for personal computing activities like watching movies or social networking, and can quickly adapt the needs of professional users presenting to clients or taking notes at a meeting. The device is also perfect for students, thanks to its handy, portable nature and focus on content. For those who prefer physical keyboards over a touch screen for quickly typing up notes or browsing the Web, the 7 Series features a full, 80/81-key keyboard sleekly tucked away under the display. At the user's convenience, the keyboard slides out completely, creating a laptop-like interface coupled with the touch capabilities on the display.

The six-cell lithium-polymer battery and innovative Eco Light Sensor, which conserves energy and adjusts screen brightness based on available ambient light, allows the 7 Series to last for up to 9 hours.

Innovative Mobile Computing

The ultra-light Samsung Sliding PC 7 Series is engineered with convenience and responsiveness in mind. Available in either 32GB or 64GB models, the 7 Series features expandable storage with the 4-in-1 memory card reader. The solid-state hard drive and Samsung's Fast Start feature powers the 7 Series in as little as 15 seconds, or restores from Hibernate and Sleep modes in a mere 3 seconds. The SSD also fully supports multi-tasking not only in the Windows® mode, but also in touch mode, so users never have to slow down.

Equipped with Microsoft Windows 7 Home Premium, the Samsung 7 Series provides familiarity and comfort to users while enhancing their overall experience. Users with entertainment in mind will benefit from high-resolution graphics and an HDMI port for sharing content on an HDTV. Additionally, the built-in webcam and audio speaker make the 7 Series ideal for video communication with family, friends and coworkers across the globe.

Optional 3G connectivity takes the 7 Series to new levels, with Internet connectivity anywhere, anytime. Moreover, the built-in accelerometer enables portrait or landscape viewing, making the 7 Series perfect for reading daily news articles, or sharing photos with family and friends.

Application Ecosystem

The Sliding PC 7 Series comes with several pre-loaded applications that are optimized for the touch screen display. This includes Samsung's applications for music, video, photos, note taking, weather, clock, compass and many more. In addition, Microsoft Bing™ Maps provides powerful tools that help get more out of search, including the intuitive Bing voice search, which enables users to type with their voice to find what they're looking for. More robust touch applications will be available via the Samsung App Manager and Windows Product Scout.

The Samsung 7 Series acts as a connective hub with other devices to improve the entertainment experience thanks to Samsung's device-to-device connection solutions. Samsung AllShare™ enables users to control, search, swap and play videos, photos, and music across a full range of DLNA® (Digital Living Network Alliance) certified Samsung devices, ranging from cameras and smart phones to TVs and PCs.

The Samsung 7 Series is scheduled to be available in March 2011, with a starting price of $699 MSRP. All Samsung mobile PC products are available through Samsung resellers and distribution channels, which can be located by calling 1-800-SAMSUNG or by visiting www.samsung.com.

Key Specs:

· CPU: Intel® ATOMTM Oak Trail Z670 @ 1.66GHz

· Operating System:

o Genuine Windows® 7 Home Premium

o Samsung Touch Launcher

· Memory: 2GB DDR2

· Hard Drive (max): 32GB or 64GB (mSATA SSD)

· Screen: 10.1-inch touchscreen HD LCD display (340 nit)

· Resolution: 1366 x 768

· Graphics: Intel Integrated Graphics

· Audio Technology: Integrated speaker (0.8W x 2)

· I/O:

o USB 2.0

o 4-in-1 memory card reader

o HMDI out

· Webcam: 1.3MP

· Battery: Lithium Polymer; up to 9 hours

· Wireless: 802.11b/g/n; WiMax; 3G

· Dimensions: 10.47 x 6.88 x 0.78 inches (W x D x H)

· Weight: Starting at 2.18 lbs.

* All functionality, features, specifications and other product information provided in this document including, but not limited to, the benefits, design, pricing, components, performance, availability, and capabilities of the product are subject to change without notice or obligation.

About Samsung Electronics America Enterprise Business Division

Based in Ridgefield Park, N.J., Samsung's Enterprise Business Division (EBD) is a division of Samsung Electronics America (SEA), a U.S. subsidiary of Samsung Electronics Company, Ltd. (SEC), the world's largest technology company based on revenue. As one of the fastest growing IT companies in the world, Samsung EBD is committed to serving the needs of consumers ranging from the home user to the Fortune 500 elite and supporting the valued channel partners who serve our customers. Samsung EBD offers a complete line of award-winning color and mono-laser printing solutions, desktop monitors, laptop computers, digital signage solutions and projectors. For more information, please visit www.samsung.com or call 1-800-SAMSUNG.