Samsung sends 4TB QLC SSDs into mass production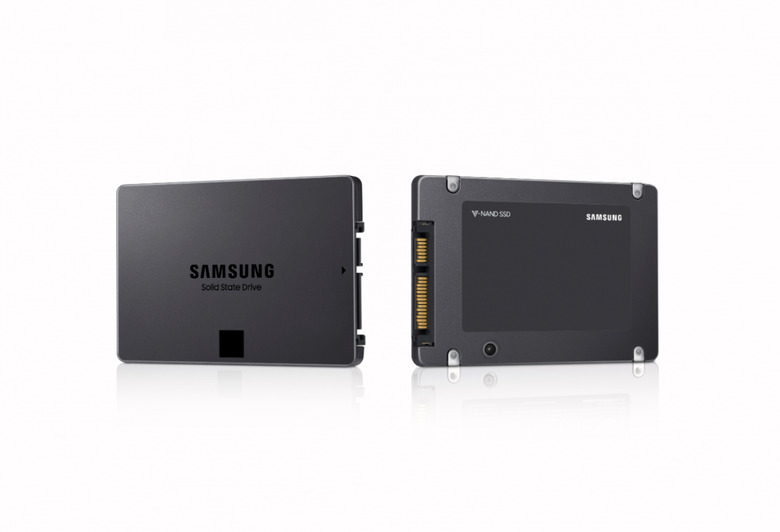 With the Flash Memory Summit in Santa Clara quickly approaching, Samsung has made a rather exciting announcement for those who pine for high-capacity SSDs. The company revealed today that it has begun mass production on a new 4-bit quad-level-cell SSD that boasts 4TB of storage. These drives, Samsung says, are the industry's first 4-bit, 4TB QLC drives produced for consumers.
4-bit QLC has been a tricky thing to figure out, because while the potential for higher capacity is there, write speeds tend to suffer in the jump from three bits to four. Samsung, however, thinks that it's solved the puzzle when it comes to making 4-bit QLC drives a reality by using 3-bit controller and its own TurboWrite technology.
When paired with Samsung's 1-terabit 4-bit V-NAND chip (32 of them in the case of this specific SSD), we get a drive that boasts 4TB capacity and read/write speeds that are similar to the company's 3-bit SSDs. Specifically, Samsung says that its 4TB SSD will offer read/write speeds of 540MB/s and 520MB/s, respectively. Longevity might still be a concern, however, as these 4TB SSDs only ship with a three-year warranty.
The hope is that this jump to QLC will bring prices down thanks to more efficient production, thereby making terabyte-sized SSDs accessible to more consumers. While we probably can't expect this 4TB SSD to be cheap, Samsung does say that it will also be introducing 1TB and 2TB 4-bit QLC SSDs later this year.
Not only that, but that 1Tb V-NAND chip means that Samsung will be able to "efficiently produce a 128GB memory card for smartphones," so it certainly sounds like the company's plans for QLC could lead to big changes for storage in general. Pricing and release information wasn't mentioned in today's announcement, but we'll keep our ears to the ground for more. Stay tuned.