Samsung Scoop Bluetooth speaker crosses FCC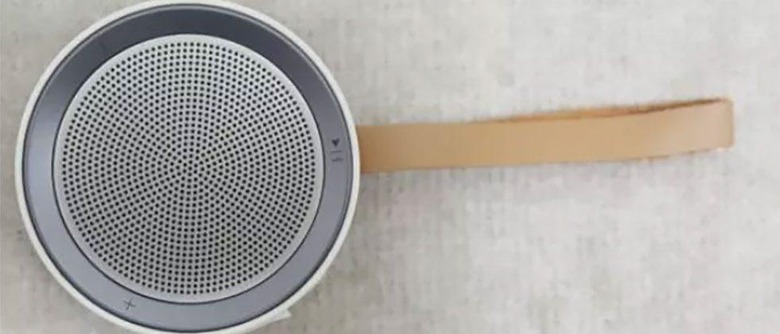 A new portable Bluetooth speaker has been spied making its way through the FCC for certifications. The speaker clearly states that it is a Samsung product on the bottom and it has the name Scoop stamped across the top of the backside as well. Samsung has clearly put time and effort into making the portable device very stylish.
Scoop is a small round device that reminds quite a bit of a small dog dish for food or water in its shape. This particular version has a silver speaker grill on top with white sides and a beige bottom. What appears to be a natural color leather strap comes out of the side of the Scoop to allow you to wrap the strap around your wrist for portability.
The device will have Bluetooth and has a cover that hides a USB connector for charging and a 3.5mm input for devices that don't support wireless connectivity. We have no idea how large the battery inside the device is and it's hard to get an idea just how large the speaker is.
While the device certainly has a premium look to it, the FCC has offered nothing in the way of specifications to go along with the images. I always wonder how the FCC manages to take such blurry and bad pictures of the items that come through for testing. You would think after taking photos of products everyday for decades the workers might have a bit more skill and a better camera. IFA is only a few weeks away and with the device crossing the FCC now it's reasonable to expect more details about the Scoop to surface during the show when it kicks off.
SOURCE: Ausdroid