Samsung sales nosedive as Xiaomi, Apple enjoy growth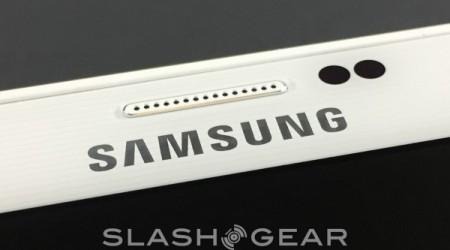 Each year, smartphone sales grow. Overall, the market is doing really well, and 2014 is no different. Gartner has released their Q3 2014 smartphone sales numbers, and the overall growth is impressive. Versus this time last year, manufacturers around the globe have shipped upwards of 50 million more smartphones, which represents a 20% hike in overall movement. Gartner says they expect overall sales to hit 1.2 billion by the end of the year, too. Everyone should be enjoying the spoils, yet Samsung is probably wringing their hands.
In Q3 2013, Samsung sold 80 million units worldwide. In Q3 2014, they've moved just over 73 million devices.
Overall sales are up, and the other top five vendors are all enjoying an uptick. Some, like Xiaomi, quadrupled their sales figures, going form 3.6 million to 15.7 million, taking their market share from 1.5% to 5.2%.
Samsung's market share? A healthy 24.4%, but down from 32.1% this time last year.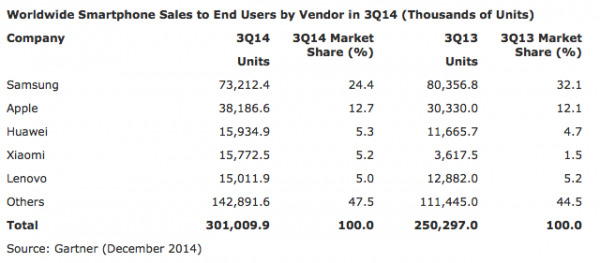 The rest of the top OEMs are all experiencing growth, too. Lenovo is up 3 million in sales with a relatively even market share, and Huawei also increased their sales figures while enjoying a slight uptick in market share.
On the back of the iPhone 6 and 6 Plus, Apple also moved 8 million more devices, and saw a 0.6% uptick in global market share, going from 12.1% to 12.7%.
As an aside, this also means Android has grown to 83.1% market share, as Apple's iOS coincides with their 12.7% market share of devices.
These numbers are best appreciated globally, where Xiaomi is now the top manufacturer in China. Other low-cost handset makers like Lenovo and Huawei are also experiencing growth, so perhaps Samsung's model of higher-cost devices is catching up with them. Unless they can pivot to start properly supporting the low-end market, their market share and sales numbers will likely continue to dive.
Source: Gartner