Samsung S8300 Tocco Unboxing and hands-on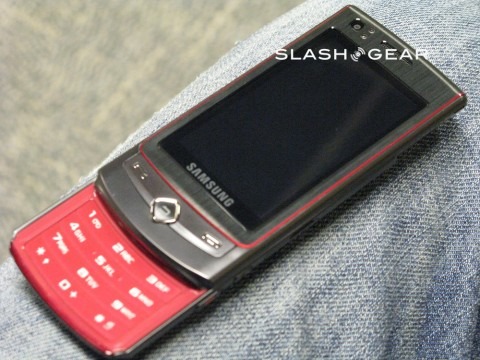 We got a crate sent to us from Korea, and we weren't sure what was inside. When I say crate, I mean wooden crate that required a hammer and crow bar to pry open. The precious cargo housed inside was worth the protection. A chorus of angels sang out in the middle of a Home Depot, and I laid eyes upon the Samsung S8300 Tocco Ultra Edition.
The Tocco is a slider/touchscreen phone, featuring the Samsung TouchWiz UI, an 8MP camera, Bluetooth 2.1, microSD card slot, front facing camera for video calls and of course an AMOLED touchscreen display. The phone is beautiful, with red accents and a brushed aluminum facing. I was impressed not only by the packaging (It's not every day you get a wooden crate) but by the sleek design of the phone, and fast response from the UI.
We got it all on video for you, exploring the initial impressions of the phone. The Tocco is cool looking, it feels good, sounds good, and happens to be absent from U.S. shores. We don't know when it'll be hitting GSM carriers in the U.S., but keep an eye out for this sleek-slider, and until then, enjoy the unboxing!
[vms b6df5b5e3f94d95b11da]