Samsung Portable Gaming Concept, Powered by Android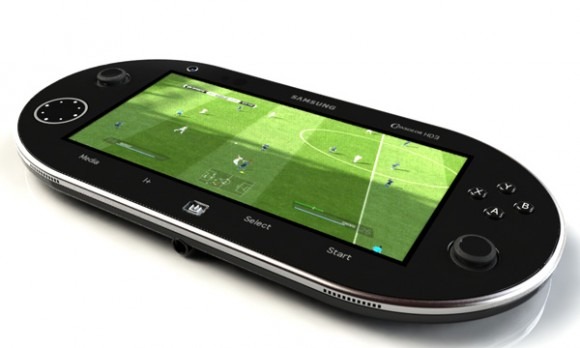 Is Samsung planning to enter the portable gaming market? And if so, should they? Here is an interesting concept by designer Dumary Joseph. It is called "Consolr HD3 by Samsung" (ummm, the name needs a bit of work), and has some crazy features, and according to Yanko Design is "a fanboi's pipe dream about the ultimate gaming machine". After all, the best concepts are those that go past what we can currently accomplish. Check out all the details after the cut.
This beasty little console has features like fingerprint recognition so it knows who is playing and can adjust, WiFi, 4G, GPS...
Well, just check out this list (also, more pics in the gallery):
16:9 full HD Amoled Multi touch screen Capacitive type with DTP (Dual Touch Pro for multitouch capability)
Built-in HD Stereo Speakers
Built-in HD Microphone
Gyroscope, accelerometer, ambient light sensor
2 analog sticks
Chat with your friends ( Wimax or 4G), by text, headset bluetooth or Visio
Download Apps from the Android Market
Share content and download movies
Synchronize content with your Android phone
Built-in GPS System with HP Localization (high precision mode)
Follow your contacts in real time on the map (MAPlayers zone app)
Front Camera 8MP HD and 3D 12MP rear camera
Visio Gaming (watch your friends through the screen and play with them by Visio
M.I.S.S. touch buttons (Media, I+,Select, Start buttons vibrate to confirm your order and illuminate when you turn the Consolor on
The Swin' Bar allows player to access all the contents, volume, 3D effects, camera settings etc...
Mobile Network connectivity: 4G, Bluetooth 2.1, WiMax, ConsolorR Mode, DLNA,DP Connect Technology4.0sW (Play your game via your TV Full HD 3D wireless)
Inductive charging
250 GB Internal Memory
Multitask without lag
Ok, but here's my question. Why do this on a separate gaming console? Why not put it all on a smartphone? That seems to be where things are going. What do you think? Would you want one of these?
[via Yanko Design]