Samsung Pay has fully launched in India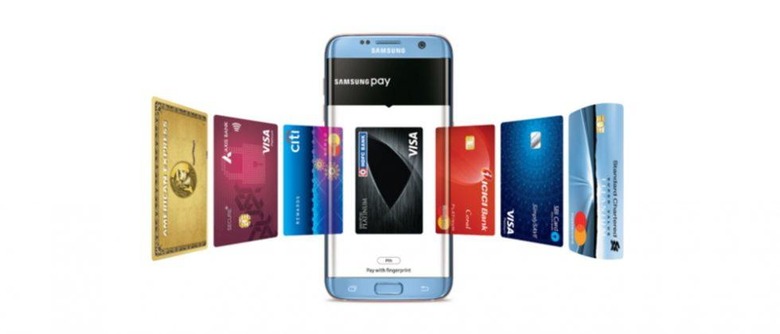 Following a test in the region, Samsung Pay has fully launched for everyone in India, marking a new milestone for the payment platform. As in other regions, those in India will be able to use their Samsung mobile device and compatible bank cards to make payments at retailers that accept the service, eliminating the need to swipe cards. Samsung says it has integrated both the Indian government's Unified Payments Interface and Paytm into the app.
Samsung seems to have big plans for its mobile payment platform. Earlier this month, a report surfaced claiming the Samsung is working on making Samsung Pay available on its non-premium smartphones, which would indicate a wider availability of the service in markets where Samsung phones are available, but especially in emerging markets.
That report surfaced a short while after Samsung quietly launched a test of Samsung Pay in India, which had required users in the nation to register for beta access. That limited access has been in place for only a couple months, and as of Wednesday has gone live for everyone. Per an announcement from Samsung, anyone in India can now download and use the app.
As in other places, those who want to use Samsung Pay will need a supported Galaxy smartphone and an account with a bank that is compatible with the service. These partners include ICICI Bank, HDFC Bank, SBI Cards, Standard Chartered Bank, Visa, MasterCards, Axis Bank, and American Express. The company also says that Citibank India will soon also support the mobile payment app.
SOURCE: Samsung