Samsung Pay Adds Discover Support: Here's How To Add Your Card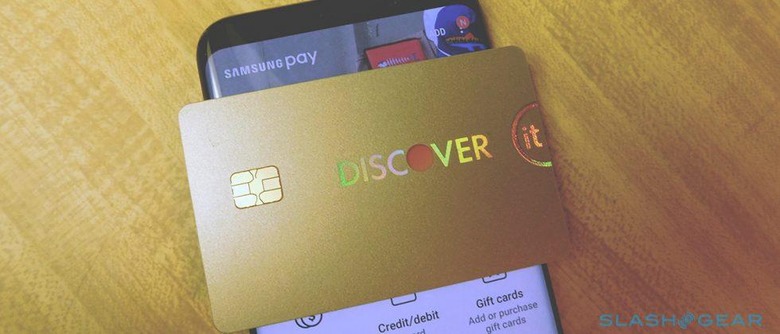 Samsung Pay, the Korean company's mobile payment system, has finally added support for Discover credit cards, filling a big gap that left out some users. Samsung quietly added the support to its Android app, enabling anyone with a Discover card to add it to their digital wallet. Not familiar with Samsung Pay? We've got all the details on how to add your card.
Download the app
If you haven't already installed the app, head over to the Google Play store and download the app. Install it, then fire it up for the first time. You'll be prompted to accept some terms and conditions and confirm the email address to which you want the account associated.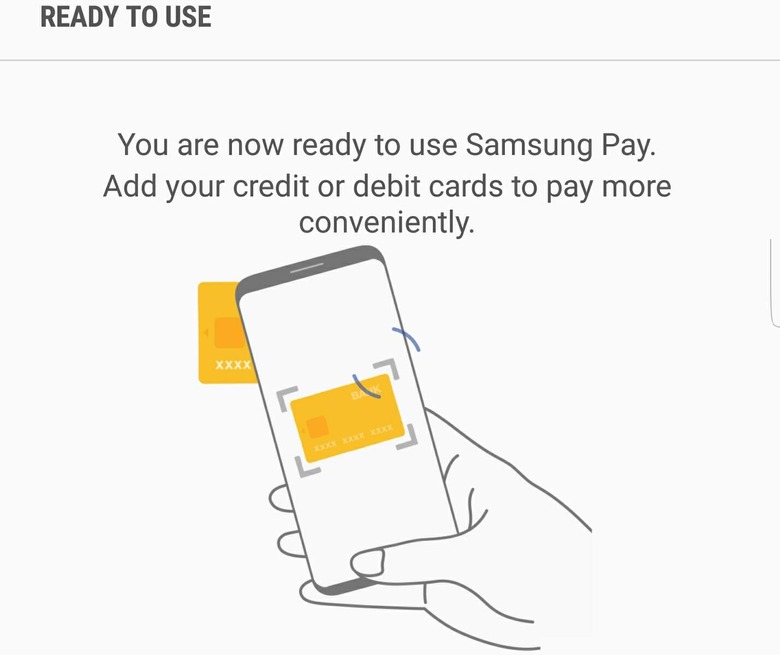 Scan your card
You can manually enter your card's details, but that takes too much time. It is much faster to use your phone's camera, which you're automatically prompted to do by the app. Simply hold the camera in front of your card and the app will pick out all the details, such as the card number and expiration date.
You will need to manually enter your name, the security code on the card, and your billing address's zip code.
Confirm the card addition
Once the card details are added to Samsung Pay, you will need to confirm the addition; this can be done by receiving an emailed code, a text code, or via a phone call. The text code is the easiest option because the app will automatically detect it when it arrives on the phone.
Choose a PIN
As with a debit card, you will need to choose a PIN that will be used for your Samsung Pay account. You will also be prompted the first time you use the app to choose how you want to authorize transactions. Depending on your device, you may be able to use iris scanning or a fingerprint to authorize purchases.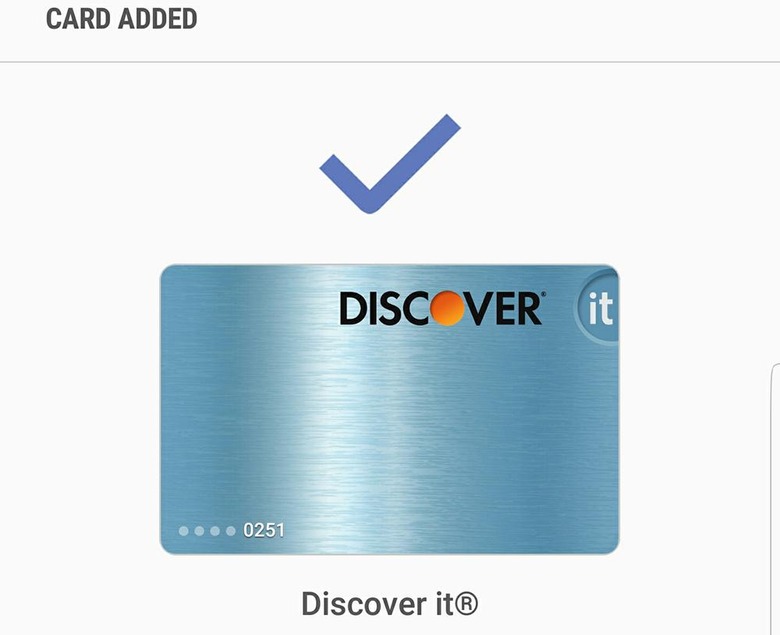 Open your wallet
At this point the Discover card should be successfully added to your Samsung Pay digital wallet. The app will take you to the app's main screen. Once there, tap on the card category, which will open up the list of cards you've added. Make sure the Discover card shows up in the list. If it does, the process is complete.

Wrap-up
Discover, though perhaps not as popular as Visa and MasterCard, has millions of users who can now enjoy Samsung's own mobile payment app. Adding the card requires the same steps as adding any other card, and the entire process should only take a couple of minutes. Check out the timeline below for more Samsung news!