Samsung patent details voice controlled auto-ejecting stylus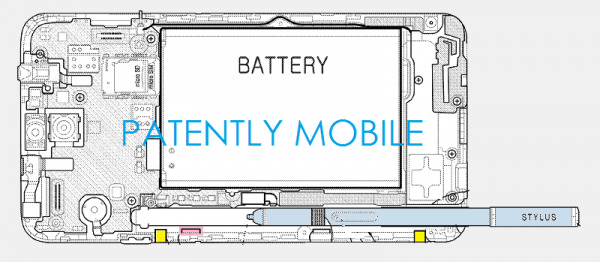 The U.S. Patent and Trademark Office (USPTO) has just published a patent application from Samsung which specifies an "automatically ejectable input touch pen system" which can be controlled by voice commands or gestures. The new built-in stylus design is rumored to be for the Samsung Galaxy Note, but it could be incorporated into any mobile device with a stylus. This patent application was filed at the end of 2014, and the patent has not been officially granted yet, just published. Therefore, it's still undergoing the examination process.
Samsung's invention is unique apart from other ejectable styluses in that the user could relay a basic voice command or a "shape gesture" to control an electromagnet that would eject the stylus. The device would also notify a user if the touch pen is not completely ejected.
The idea behind the voice command is that it keeps the phone one-handed–even though you will still need to hold the stylus in one hand and the phone in the other. Samsung continues,
"Since it is possible to automatically eject the touch pen only with a simple manipulation and/or command, it is easy to manipulate the electronic device with one hand, and since a separate locking device for confining the touch pen isn't needed, it is possible to enhance the usage convenience of the electronic device."
This design may be incorporated into upcoming Note handsets, or it could be part of a strategic patent portfolio designed simply to block others from using the technology completely. Samsung could also license the technology, but it's likely that it will utilize the designs for itself.
Source: Patently Mobile