Samsung offers a year of Netflix to Galaxy Tab S2 buyers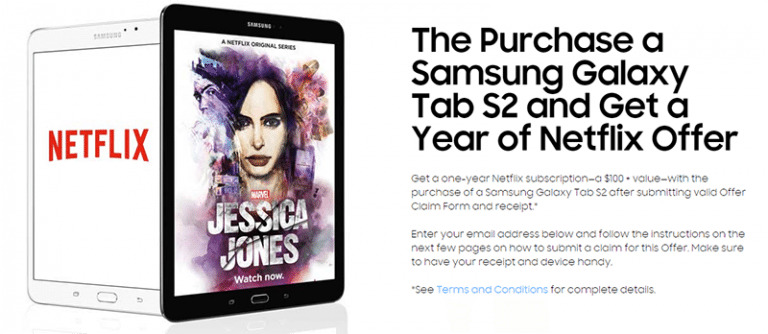 With the holiday season upon us, virtually every company is doing their best to entice you to buy their product. With special promotions and price cuts, the real winner is us, the consumer. Samsung is the latest to entice customers, by offering a special deal for anyone looking to pick up a new tablet this month.
The company has announced that with the purchase of any Samsung Galaxy Tab S2, you will get a free one-year subscription to Netflix. That's worth roughly $100. And considering that most people subscribe to the service, you can almost count that as a direct savings. Not too shabby.
You don't have to jump through too many hoops, if you end up picking one of these up. Just save your receipt, and plug it in on the Samsung Promotions website. The offer is valid on any purchases made through December 26th, and you have until January 31st to claim the free Netflix subscription.
We'll keep you up to date with other holiday deals through the end of the season, so stay tuned for more.