Samsung Notebook 7 Spin packs rapid charging, 3-in-1 display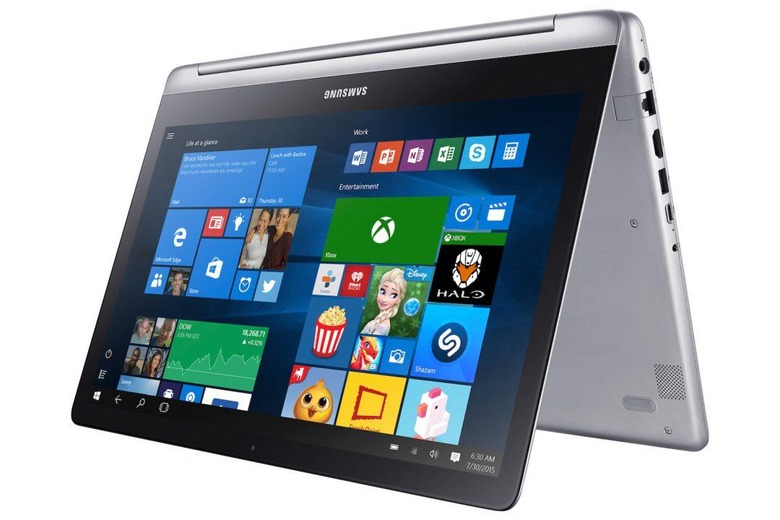 Samsung has introduced a new laptop designed for multimedia enthusiasts called the Samsung Notebook 7 spin. The notebook is being offered in two different display sizes, one 13.3-inch and the other 15.6-inch. Each brings with it a 360-degree touchscreen, as well as rapid charging that quickly adds hours of battery life without much time being spent tethered to a wall outlet. The features roll on from there, with the Notebook 7 spin expected to be available from June 26.
The 13.3-inch version comes in a single configuration bearing a 6th-generation Intel Core i5 6200U 2.30GHz – 2.80GHz processor, Intel HD Graphics 520, a Full HD 1920 x 1080 pixels resolution, 8GB of RAM, and 1TB of storage. The larger 15.6-inch model comes in two configurations, however, both with a 6th-generation Intel Core i7 6500U 2.5 – 3.1GHz processor and NVIDIA GeForce 940MX graphics.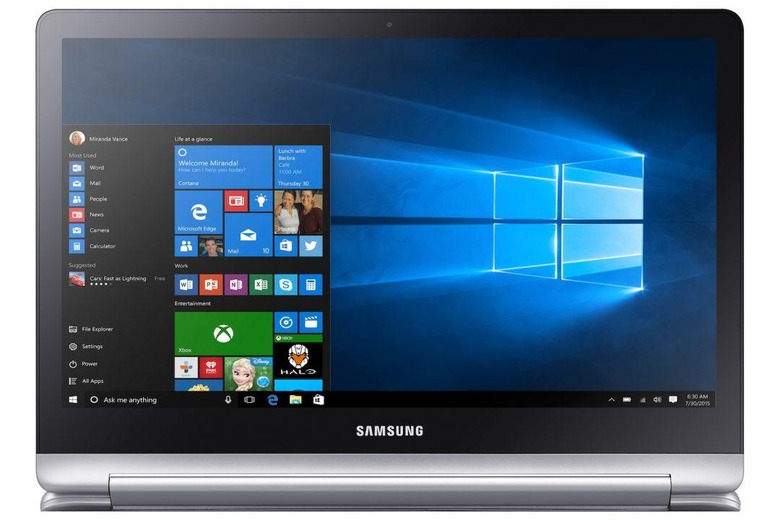 The difference between the two larger models lies in the memory and storage — one features 1TB of storage and 12GB of DDR4 memory, while the other offers 16GB of DDR4 and 1TB of storage paired with a secondary 128GB SSD.
That aside, all three laptops are offered in Platinum Silver with features that include an internal dual array digital microphone, a pair of 1.5 watt stereo speakers, a combination audio jack, HDMI, Ethernet, 1 USB 2.0 and two USB 3.0 ports, a single USB-C port, webcam, SoundAlive, and an "island-type" backlit keyboard.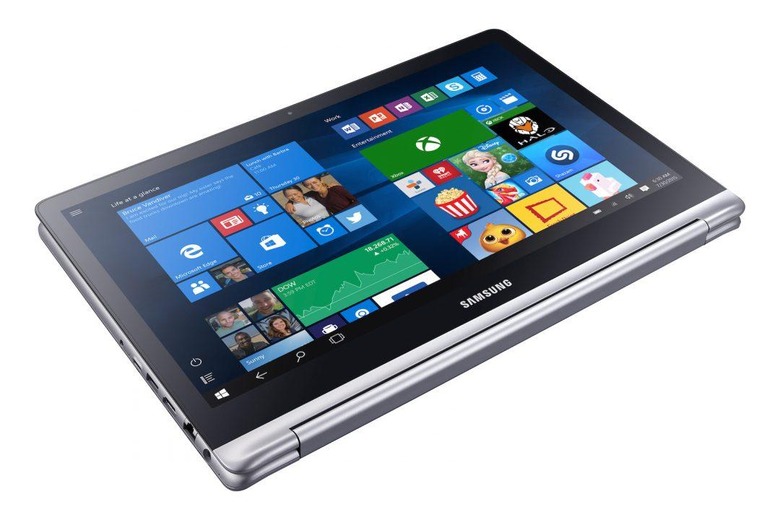 A full 3-in-1 media card reader is available on the larger model and only a microSD card reader on the smaller model.
One of the more notable features is the inclusion of a the of rapid charging, the same you may enjoy with your newer Samsung smartphone. According to the company, plugging the laptop in for 20 minutes will provide up to two hours of battery life. In total, it takes 90 minutes to fully charge the 15.6-inch model and 100 minutes to fully charge the 13.3-inch model.
Finally, the Samsung Notebook 7 spin features a Video HDR mode and runs Windows 10. The laptops will be available through Best Buy on June 26 starting at $799.99 USD.