Samsung netbooks, from Russia with love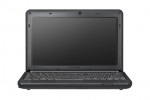 Samsung has unveiled a new netbook on the Russian market and you will have to work with me here, the translation is atrocious. The machines are called the Samsung N130 and N140 netbooks and like most netbooks they are thin and small machines.
Samsung says that the machines have larger keyboards and are designed for on the go productivity. The N130 weighs a bit over 1KG and promises seven hours of battery life and the N140 promises 11 hours of run time per charge. My personal favorite feature is an anti-glare screen, most netbooks and notebooks today have glossy screens that throw lots of glare in bright environments.
The N140 and N130 apparently use an Atom N270, and it seems the sketchy translation claims that they can be had with the newer N280 CPU as well. Both machines use the Intel 945GSE chipset and have 1GB of RAM. Storage is to a 160GB HDD and the both sport 0.3MP webcams. Other features include Wi-Fi, Bluetooth, memory card reader, VGA out, and integrated mic. The N140 runs on a standard 6-cell 200mAh battery with an optional 6-cell 900mAh battery. The N130 gets a 3-cell or optional 6-cell battery.