Samsung Mondi Mobile WiMAX Device First-impressions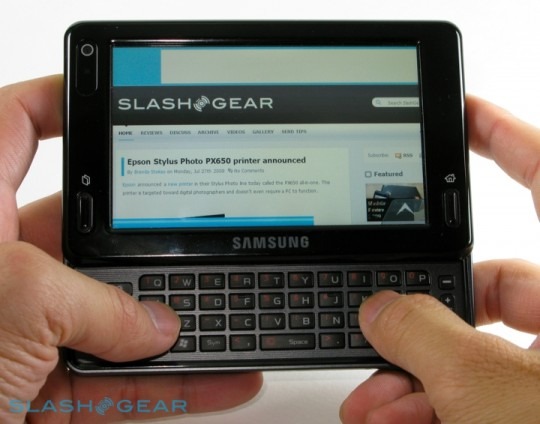 It seems a long time since we played with a non-functional prototype of Samsung's Mondi WiMAX MID back at Mobile World Congress in February.  Only last week the Windows Mobile 6.1 handheld saw its official launch, to take advantage of Clearwire's slowly spreading CLEAR WiMAX network, so imagine our surprise when a Mondi dropped, unannounced, through the SlashGear letterbox.  After the cut, check out our walkthrough video and an initial hands-on gallery, together with some early feedback in advance of our full review.
First impressions are good, with the Mondi feeling well constructed and sturdy.  As the 4.3-inch screen size might suggest it's a compact device, though the protruding stand and camera sections on the back add up to a reasonable thickness.  It's definitely not a MID you could slot into your front trouser pocket, though of course you do get that full QWERTY keyboard to make up for it.  The combination of shallow travel, a squared-off layout and a relatively small spacebar mean that the Mondi isn't our first choice for text entry; it's certainly quicker than pecking at an on-screen 'board but you're looking at speedy URL entry and occasional IM replies rather than anything more serious.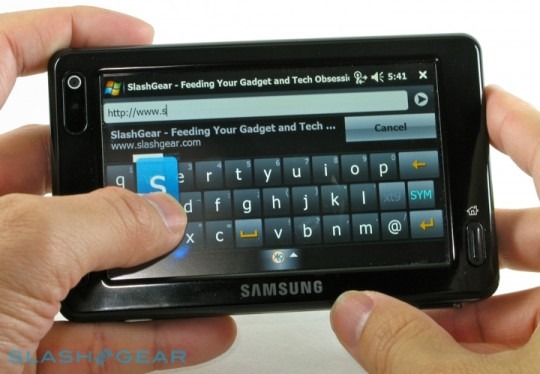 Samsung's choice of Windows Mobile 6.1 is also a source of argument, and we're not convinced that Microsoft's aging platform is the best option for the MID.  Add in doubts about the Mondi's official Windows Mobile 6 upgrade eligibility – which we're waiting on official comment regarding – and you could be looking at a handheld with plenty of potential but hampered by its OS.  Still, Samsung's TouchWiz UI overlay makes another reasonably successful appearance here, with easy to access widgets for controlling connectivity, frequently-used features and – no small thing when we're talking about WM6.1 – visual gloss.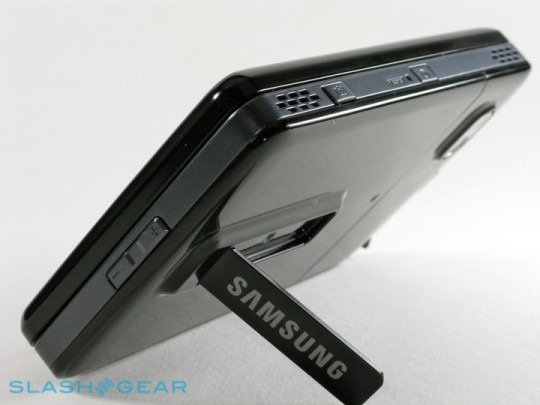 As for WiMAX we're going to have to go sniffing out coverage, since CLEAR's reach is still in its infancy.  Happily there's WiFi for the usual hotspot connectivity, while Bluetooth means you can tether up your cellphone and get online that way.  We'll have full feedback on the Samsung Mondi in our official review, but until then enjoy the hands-on demo video and gallery.
Samsung Mondi Hands-on demo
[vms 2e2a57ace4d9a76fd9ac]