Samsung Mobile countdown site points to tomorrow reveal, hints at Retina?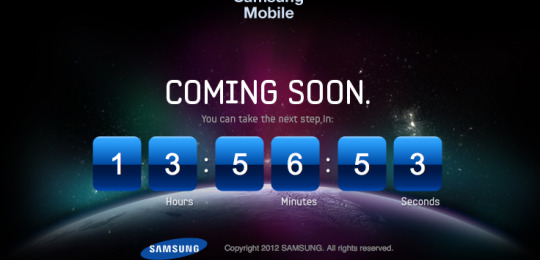 Apparently there will be big Samsung news unveiled when the calendar hits April 23. The manufacturer has launched a new teaser site with a countdown timer set to expire in the early morning hours of tomorrow, in US time at least. The site is a seemingly nonsensical tgeltaayehxnx.com, but if you put your anagram skills to the test, you can realize that it actually unscrambles to "The Next Galaxy."
While a lot of people have started talking about the Samsung Galaxy S III, remarkably few details have managed to emerge. The company has confirmed that it will be holding an event on May 3, which is expected to be when we'll get all the juicy news and details about the new entry in Samsung's flagship Android smartphone product line. With that event next week, it's very curious that Samsung would be teasing some sort of reveal tomorrow, so it will likely be something that provides more questions than it does answers.
And to throw an even bigger enigma into the picture, digging into the source of the tgeltaayehxnx.com site shows that somewhere in the source code is an image file titled "startup-retina.png." What would a Samsung teaser site be doing with a file that includes that word "Retina" in its name? That's just an example of what we're talking about regarding there being more questions than answers. So whatever Samsung has up its sleeve, it's certainly creating a captive audience for the eventual reveal.
[thanks Kote!]
[via AndroidCommunity]